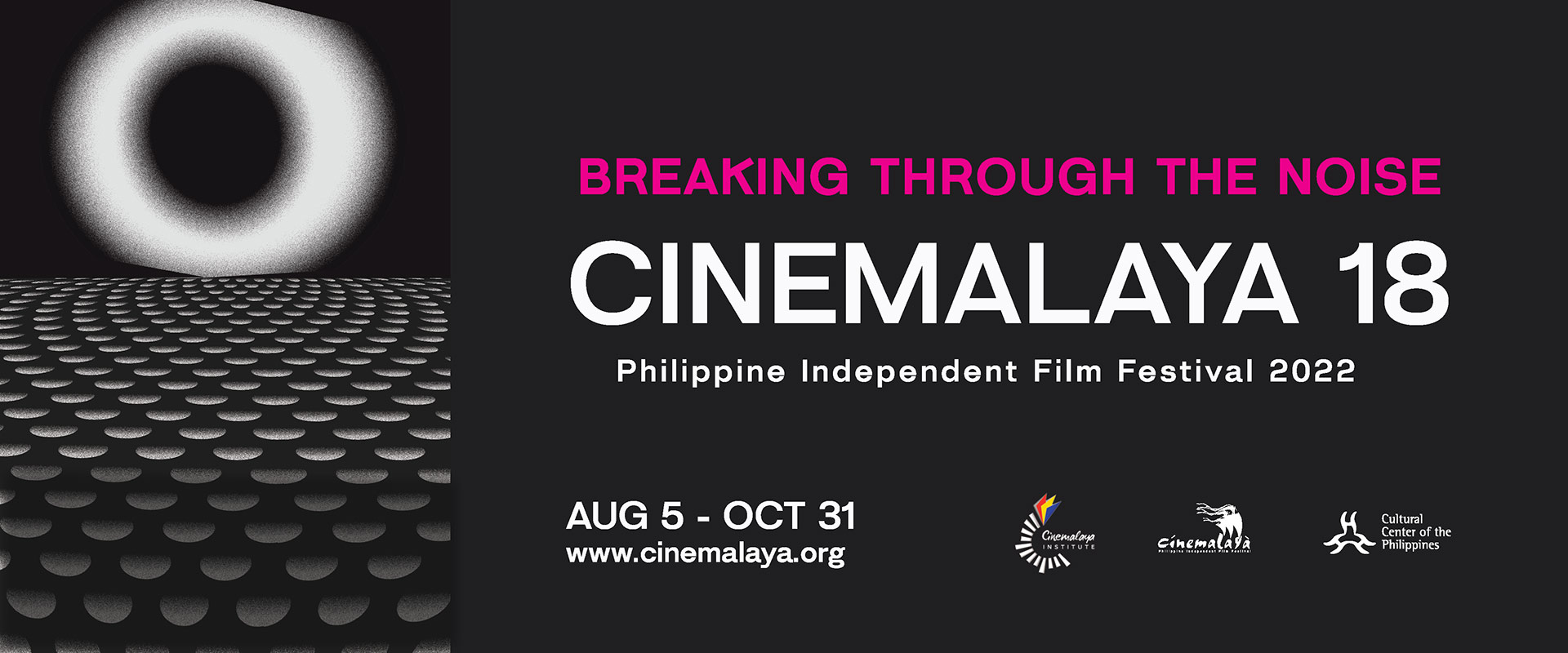 12 Weeks

A single, 40-year-old woman discovers she is pregnant after breaking up with her boyfriend and must decide whether she wants to be a mother or not.
Angkas

Leo is not just an ordinary habal-habal driver. He is the resident ambulance and delivery man in a remote village in Compostela Valley who is hired to transport the dead down the mountain.
Bakit Di Mo Sabihin

A deaf couple learns that it is not their inability to speak or hear that tears them apart.
Batsoy

Two young siblings go on a fantastical adventure to satiate their much-coveted and delectable craving for batsoy.
Bula Sa Langit

Acting as if coming home from a vacation, young Marawi war veteran Wesley is excited to bring his girlfriend Ritz home to meet his family. Showered with unsolicited hero worship upon his homecoming, Wesley struggles to reconnect his present relationships with his family and lover all while celebrating the town fiesta.
Blue Room

Rebel Rebel, an indie rock band composed of woke albeit sheltered teens, gets its biggest break at a prestigious local music festival. But after their celebratory night at the local bar, they are arrested for drug possession.
Ginhawa

Anton is an aspiring boxer. He hopes to continue the legacy of his older brother Saul who was given a chance to escape poverty by joining a competition in the city but later faced tragedy. Against his mother's wishes, Anton leaves their small fishing town to pursue boxing in Manila where he unravels the ugly truth of the brutal sport.
Kaluskos

Rebekah files for sole custody for her young daughter Amaya. But this doesn't sit well with her estranged husband Jay. Amid the custody battle, Rebekah finds another "Amaya" under the bed. When the other Amaya emerges, Rebekah feels the motherly connection that she lost with her daughter.
Kargo

A woman relieves the heavy burden from her past when she finally exacts revenge on the man who murdered her entire family.
Retirada

Despite her husband Edong's assurance, Azon Marcelo experiences melancholia as she adjusts to her life as a retired government employee. Their neighbor Chayong introduces the game of Bingo to Azon. After hitting the jackpot, Azon becomes a regular Bingo player hoping to duplicate her initial windfall.
The Baseball Player

A Moro child soldier aspires to become a baseball player amidst an all-out war.












Ampangabagat Nin Talakba Ha Likol
Ampangabagat Nin Talakba Ha Likol

A girl resists her childhood home's attempts to destroy her using her own personal history.
Black Rainbow

An Aeta boy chases his dream of going to school to learn how to read the legal documents given to their community and understand why they are being forced to give up their ancestral lands.
City of Flowers

A couple's attempt to survive the devastatingly low yield of their flower farm and raise money for the birth of their first child lead to an unforeseen ending.
Dikit

A young woman with a monstrous secret desperately longs for a different body. When a new couple moves in next door, she sees her chance to finally get one.
Distance

After working overseas for seven years, a mother returns home to her son. The abrupt reunion forces the pair to face up to their estranged relationship.
Duwa-Duwa

A runaway daughter comes home to steal her mother's prized rooster only to find out it isn't worth as much as she thought.
Kwits

A man tries to get by in the time of COVID-19 with the simplest of goals: to get his ayuda.
Mata Kang Busay

The falls is omniscient – it is power-giving to those generous to her demands. When she does her bidding, what are you prepared to commit?
Mga Handum Nga Nasulat Sa Baras
Mga Handum Nga Nasulat Sa Baras

Three boys become teachers to their parents during the pandemic.
Roundtrip to Happiness

Ara and Hiro visit Google Earth for the first time in search of escape, adventure, and fleeting happiness.
See You George!

A group of hospital workers takes a trip down memory lane as they honor the life of one of their colleagues.
Si Oddie

A delivery rider struggles to find his untraceable customer while racing against time in a life and death situation.