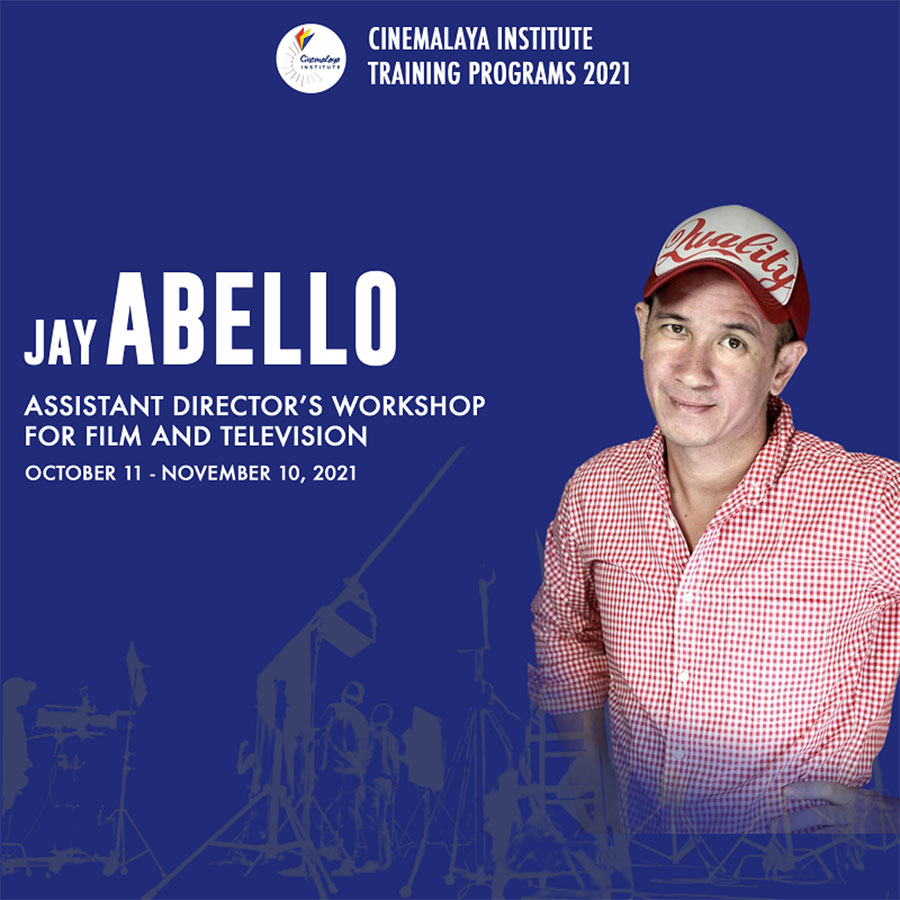 Assistant Director's Workshop For Film And Television by Jay Abello
October 11 – November 10, 2021
Monday-Wednesday-Friday * 1:30 P.M. to 5:30 P.M.
Workshop Description
1) One of the most important roles and positions in film or TV production is the Assistant Director or the 1st AD. The 1st AD sets the tone, the pace, the flow, and general demeanor of every shoot.  While the Director sets the direction, the 1st AD manages the whole battalion behind it to execute the vision. This course deals with the mind-set required to manage a whole production. Each decision affects production entirely, and having the right mind-set is the key to being a good 1st AD.
2) This course is for production people who want to become an Assistant Director or AD for film and television. Instead of years training and learning the ropes, this course will propel them a few notches higher and will give them the necessary knowledge about being an AD.
3) This 2-part course will teach everything one needs to know to work as an Assistant Director in film and television in the Philippines. The only thing this course cannot provide is the practicum (due to geographical and the Covid-19 pandemic limitations) which is the last step before becoming a full-fledged working AD in the film and TV industry.
4) Workshop fee is P12,000.00 per participant.
5) Only 20 participants will be accepted to the workshop.
Workshop Objectives
To train students on all aspects of work of an Assistant Director for Film and Television industries in the Philippines.
Requirements
1) Has at least "10 shooting days" working experience in either TV or film (or short film)
2) Has the time to take the class in complete attendance.
3) Has good internet for zoom classes.
4) Has done all assigned work prior to taking class (a few movies to watch and 1 full-length script to read).
Expected Workshop Output
By the end of this course, the student will learn the skills required to manage a TV and movie production set.
Deadline of application form: August 20, 2021
Submit to  cinemalayainstitute@gmail.com