MAIN PRODUCTION CREW
Director Isaac Cherem
Screenwriters Isaac Cherem, Naian González Norvind
Executive Producers Salomón Askenazi, Isaac Cherem
Producers Georgina González, Edgar Garcia Lopez
Co-Producer Naian González Norvind
Cinematographer Diana Garay
Art Director Adelle Achar
Sound/Sound Designers Sebastian Zunino, Adan Herrera
Composer Jacobo Lieberman
Editor Roque Azcuaga
Re-Recording Mixer Rita Garcia-Salas
Casting Rocio Belmont
Make-Up Beatriz Vera
Costumes Ximena Guzman
MAIN CAST
Naian González Norvind, Christian Vazquez, Carolina Politi, Daniel Adissi, Margarita Sanz,  Ana Kupfer, Emma Dib, Rodrigo Corea, Elias Fasja, Ricardo Fastlicht and Adriana Llabres
Synopsis
Leona is the feature-length debut of Mexico City-based director Isaac Cherem. It follows Ariela (played by the film's co-writer Naian González Norvind), a member of the Jewish community, as she falls in love with Iván (Christian Vázquez), a gentile. A muralist, Ariela doesn't quite fit in. She refuses to be set up with would-be suitors nor does she conform to the gender roles she's been taught to play. This anchors the main conflict of the film. Not only does her family reject her relationship with Iván but they threaten to shun her altogether. This also complicates Iván's own concerns about his future within Ariela's family. Leona explores what it means to navigate strict cultural traditions that go against your own desires.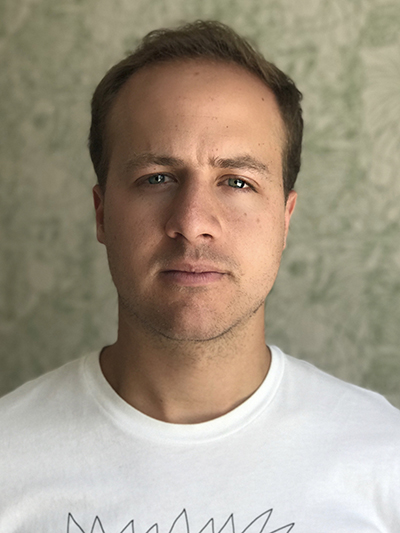 Filmmaker's Profile
Be Honest: people can only relate if it's honest.
Be Bold: take risks.
Be Nice to People: people will work better for your project.
Be Consistent: it's hard to go all the way and make a film, talent is not enough.
Have Discipline: routines have worked well for me, especially while writing.
In a 2019 interview in Medium, ISAAC CHEREM listed the aforementioned as things he wished someone had told him when he was starting out in filmmaking. Born in 1992 in Mexico to a tight Syrian-Jewish community, Cherem had been fortunate to discover his path at the early age of 15. By 16, he was already on film sets as a production assistant, exposing himself to and learning the workings of movie magic. He graduated from the Los Angeles Film School in 2011, and, four years later, founded Fosforescente – a production company focused on Mexican cinema.
His debut feature film, Leona (2018), premiered at the Morelia International Film Festival in October 2018. The multi-awarded film also participated in several international Jewish film festivals such as Philadelphia Jewish Film Festival, Atlanta Jewish Film Festival, Poland's Jewish Motifs International Film Festival, and the UK Jewish Film Festival.
Directors' Notes
I think a lot of people from the Syrian-Jewish community had seen the film, and the reaction is exactly what I wanted, which is a lot of people cursing at me – especially older men – the ones who benefit most from the status quo, the patriarchy we live in, the profound chauvinism. But then the women and young people were like "Hold on, I want to talk about this. Let's open up the debate. I don't agree that this is bad for the community."
Of course, I'm not the pioneer of this. My generation in general is putting here and there about opening up, seeing the world, you know, diversity and all this.
This is what I can do from my place, which is film. A film that self-criticizes our community, because if not us then who will, right?
The notes are excerpted from an interview conducted by the Marlene Meyerson JCC Manhattan Film on Leona on YouTube.
Share This Story