Love and Pain In Between Refrains
MAJOR PRODUCTION:
Director/Writer Joselito Altarejos
Executive Producers Melissa Geling, Jay Altarejos
Producer Ferdinand Lapuz
Supervising Producer Antonio de Guzman, Jr.
Director of Photography Joseph delos Reyes
Editor Diego Marx Dobles
Sound Designer Andrew Milallos
Musical Scorer Angeline de Leon
Production Designers Anelle Durano, Jay Altarejos

CAST
Oliver Aquino, Elora Españo, Richard Quan, Anelle Durano, Suzette Doctolero, Natileigh Sitoy, Anjo Resureccion and Jill Urdaneta
Synopsis
Noel (Oliver Aquino) and Adelle (Elora Españo) were high school sweethearts who lost touch with each other after high school graduation. Ten years later, they meet again and feelings are rekindled. Noel is now a musician while Adelle is an art teacher. They start living together with Noel's pet cat, Miming. Noel shows signs of immaturity and emotional instability, betraying his abusive family background. One night, Adelle brings home her co-teachers for dinner. After an enjoyable evening, Noel erupts into a jealousy fit and hits Adelle for the first time. Adelle fights back. But the two reconcile with Noel promising never to hurt her again.
The violence has just started. After getting hurt again, Adelle left but Noel has persuaded her to go back to their house. Noel subtly threatens Adelle never to leave him again for he will just find her. Adelle apparently has returned because she is pregnant. Upon knowing of Adelle's condition, Noel proposes marriage. But the beautiful night turns traumatic when Noel forces himself on Adelle.
A few months later during Adelle's pregnancy, a series of events triggered Noel to spiral into more violence.
Love and Pain In Between Refrains is a neo-noir film dealing with the tragedy that feeds on love and codependency, and the cycle of abuse and violence.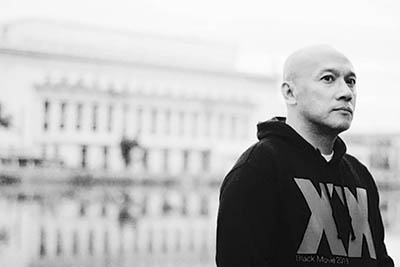 From pioneering the digital age of New Queer Cinema in the Philippines with his internationally awarded films such as Tale of the Lost Boys (2017), Unfriend (2014), Ang Laro sa Buhay ni Juan (2009), Ang Lihim ni Antonio (2010), JOSELITO ALTAREJOS very recently turned his advocacies and creative pursuits to highlighting the national democratic ideals and struggles of the Filipino masses by infusing them in his upcoming films. Currently in production, The Revolution Knows No Gender will be Altarejos' contribution to the continuing saga of our countrymen against tyranny and sociopolitical oppressions.
With his newly formed production, 2076 Kolektib, his ultimate goal is to create and produce multimedia contents that will arouse, educate, and inspire his audiences to become more vigilant and conscious of the social issues and challenges they face in the age of yet another strongman rule. In the true spirit of independent filmmaking, Altarejos' decades of experience and continued quest to acquire more profound knowledge and creative enrichment is geared towards marshaling the sentient and jolting the uninformed – while still very much adhered to forming the Brockanian concept of the Great Filipino Audience.
Altarejos, a native of Masbate, had his formative years in theater and television. His auteurist signature has always been hinged on embracing his celebrated personality as a social provocateur, and his brand of directing leans more toward ultra-realism rather than impressionism. Among his recent films are Cinemalaya's Best Film Kasal (2014), Temporary Protection Order (2016), and the Urian-nominated Jino to Marī (2019). A reinvigorated student of film, Altarejos carefully utilizes all his learning tools and secures them in creating what he advocates as the Cinema of the Social Consciousness.
Share This Story