MAIN PRODUCTION CREW
Production Director Akio Fujimoto
Director of Photography Kentaro Kishi
Sound Yuki Yaei
Production Designer Norihiro Iimori
Costume Designer Hitomi Shinjo
Makeup Artist Kazuyo Ooe
Production Manager Masaya Handa
Music Composer Wasei Sato
Sound Mixer Keefar
Colorist Takamitsu Hoshiko
Co-Producer Yuki Kitagawa
Producers Kazutaka Watanabe, Fumito Yoshida
Coordination in Myanmar Aung Ko Latt Motion Pictures
Promoted by Japan-Myanmar Media and Culture Association
Planned and Presented by E.x.N K.K
Copyright E.x.N K.K
Main Cast
Kaung Myat Thu, Khin Myat Thu, Issace, Htet Myat Naing, Yuki Kitagawa, Niina Kuromiya and Kanji Tsuda
Synopsis
Khin, mother of two young boys, lives in a small apartment in Tokyo. She supports her family when her husband, Issace, is caught by the immigration bureau. She pours her heart and soul into her two boys, raising them in the unfamiliar language of their resident country even as they fight day in and day out due to the stress of not being able to see their father. In a world of uncertainty, she begins to long for her homeland.
A tale woven from the theme of "immigration", an issue of interest to countries around the world with the democratization of Burma and foreign families on Japanese soil in the background. Performed by a roster of mostly first-time Burmese actors making their film debuts, the film is depicted with such realism that it feels like a documentary, striking the viewer with its severe gaze while depicting the family with real tenderness.
The film is presented by the Japanese Film Festival.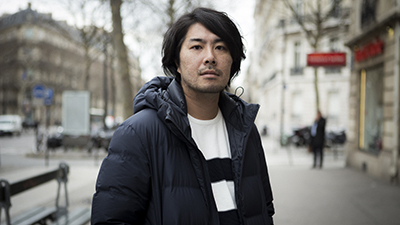 Filmmaker's Profile
Akio Fujimoto born in 1988, in Osaka, Japan, studied family psychology in college. After he enrolled in the Visual Arts Academy Osaka where he learned the essence of filmmaking, he worked as selection committee chief for the student film category at the Nara International Film Festival.
In 2013, he directed his first short, PSYCHEDELIC FAMILY". A subtly crafted piece based on his own experiences in a crumbling family. He moved to Tokyo to work on his first feature, a Japan – Myanmar co-production PASSAGE OF LIFE, which took 5 years to be completed.
The film premiered at the Tokyo International Film festival in 2017, where it was awarded Best Asian Future Film and The Spirit of Asia Award. Since then, based in Yangon and Tokyo, he is directing programs and documentaries for Japanese Broadcaster NHK.
His second feature film, ALONG THE SEA's World Premiere will be at the 2020 San Sebastian Film festival, in the New Director Competition.
Director's Notes
"I couldn't forgive my parents for all they had done. But I still wanted to be with them…"
Passage of Life is a story about a Burmese boy living in Japan and depicts his experience of a world that sometimes lacks reason and his resistance to it, as well as his love and hatred of his family.
I have sought to, through the boy's experiences and the feelings they produce, provide an opportunity for viewers of the film to have a common experience – that of a family's love that overcomes the borders between two countries.
Also in the background of the boy's experiences, one can glimpse the many issues that face Burmese families living in Japan. Language, cultural differences, and the refugee system are featured prominently in the film. I would very much like this movie to become an opportunity for people to think about Japan's coexistence with other countries amidst growing pressure for Japan to open up in this increasingly global world.
Share This Story