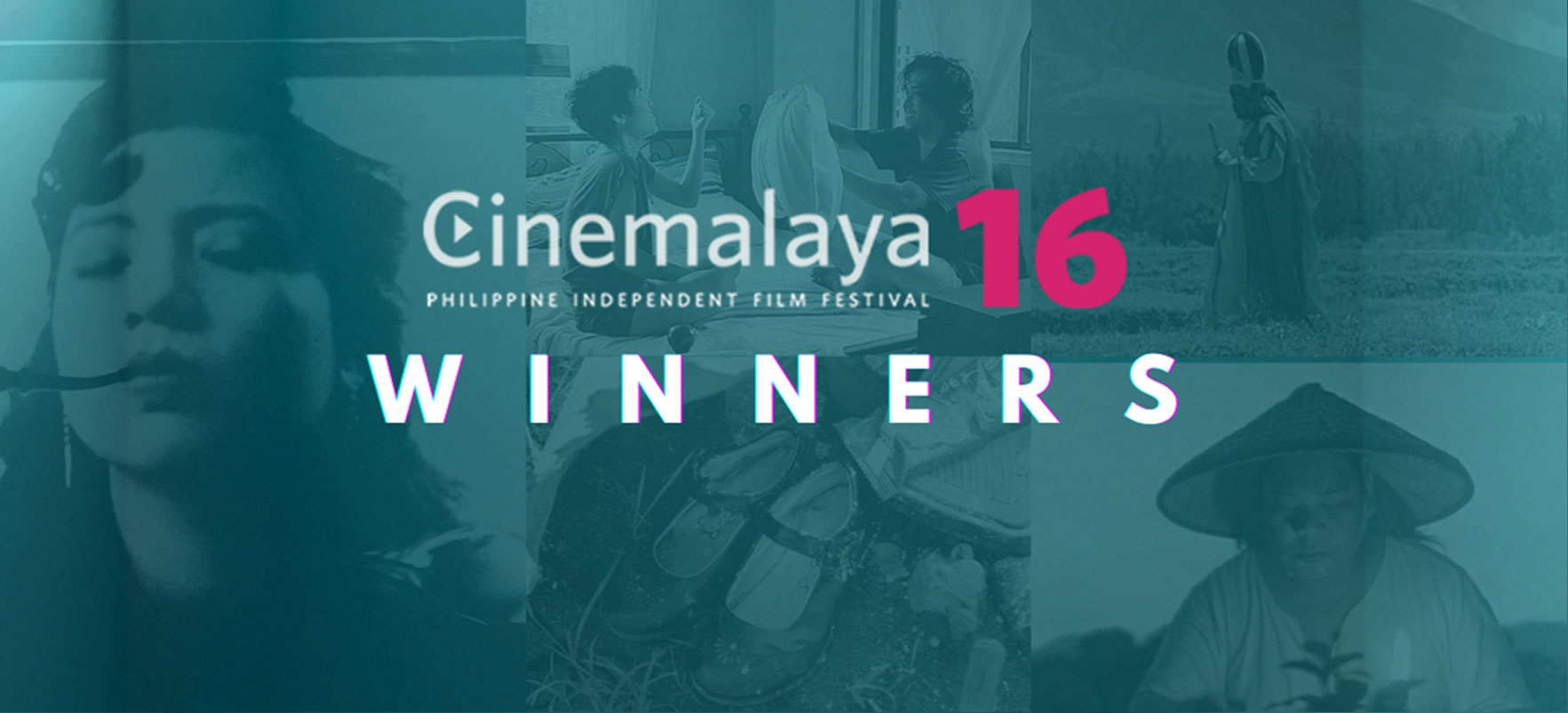 Tokwifi Named Best Short Feature Film In Cinemalaya 2020
BESTING nine other films, Tokwifi prevails in this year's edition of Cinemalaya Philippine Independent Film Festival as it brought home the coveted Best Short Feature Film and NETPAC Prize awards during the Awarding Program held on August 12, 2020, live on CCP and Cinemalaya Facebook pages, Vimeo and KUMU.
Directed by Carla Pulido Ocampo, Tokwifi was cited for its "highly original take on love between two persons coming from different eras and worlds, and how modernity and tradition could best be bridged by common humanity."
Aside from the Balanghai trophy, the Best Film winner took home Php150,000 cash prize, a set of OSMO 3-Axis pocket hand-held camera and full color-grading services from Optima Digital Inc., worth Php360,000.
A film about an unlikely love story between a 1950s mestiza star trapped inside a television set that fell from the sky and a Bontok Igorot man who doesn't know how to kiss, the film also won received the NETPAC Award for its magical but very convincing depiction of how women are boxed into stereotypes by television and how cultural communities are reduced into backward primitivism by the media.
NETPAC (Network for the Promotion of Asia Pacific Cinema) is a worldwide organization that promotes a greater understanding and appreciation of Asian films and filmmakers.
Filmmaker Martika Ramirez Escobar took home the Balanghai trophy for Best Direction for her film Living Things. She has "effectively orchestrated the resources of cinema in its whimsical yet convincing tale of how two people in love confront the challenges of change by even more love and devotion." Her film is about a woman who discovers that her decade-long lover has turned into a cardboard standee.
Best Screenplay award went to Pabasa Kan Pasyon, a film by Hubert Tibi. It was cited for its "moving tale of mother and son struggling to survive amid the sounds and sights of lent in the Philippine countryside." The film follows a Bicolano family that turns to religion to make both ends meet.
Reeden Fajardo's Quing Lalam Ning Aldo brought home the Audience Choice Award. He receives a certificate and Php50,000 cash prize. The heartwarming tale of a transgender sampaguita farmer who decides to renovate their neglected kitchen as soon as she hears that her son is coming home endears the film to the audience.
Joanna Vasquez Arong's Ang Pagpakalma Sa Unos received the Special Jury Prize for "its moving account through the eyes of a child of the ravages wrought by the strongest typhoon ever recorded in human history, its poignant poetry losing none of the event's immediacy and tragedy." She will take home a Balanghai trophy, Php60,000 cash prize, and DCP mastering package, worth Php25,000, from Central Digital Lab.
The Cinemalaya continues to screen on Vimeo until August 16. For those living outside the country, you can catch the global premiere of Cinemalaya on the Filipino Channel (TFC) from August 17 to 31, and on iWanTV from August 24 to September 7, 2020.
Out of 244 entries submitted, 10 short films were selected and will vie for the Best Film award. These are: ANG GASGAS NA PLAKA NI LOLO BERT (THE BROKEN VINYL RECORD) by JANINA GACOSTA AND CHESKA MARFORI; ANG PAGPAKALMA SA UNOS(TO CALM THE PIG INSIDE) by JOANNA VASQUEZ ARONG; EXCUSE ME MISS, MISS, MISS by SONNY CALVENTO; FATIGUED by JAMES ROBIN MAYO; LIVING THINGS by MARTIKA RAMIREZ ESCOBAR; PABASA KAN PASYON by HUBERT TIBI; QUING LALAM NING ALDO (UNDER THE SUN) by REEDEN FAJARDO; THE SLUMS by JAN ANDREI COBEY; TOKWIFI by CARLA PULIDO OCAMPO; and UTWAS (ARISE) by RICHARD SALVADICO AND ARLIE SWEET SUMAGAYSAY.
In Ang Gasgas na Plaka ni Lolo Bert, an old vinyl record alters a closeted gay man's life. Meanwhile, memories catch up as a girl visits a ravaged port city in Ang Pagpakalma sa Unos.
Excuse Me Miss, Miss, Miss tells the story about a department store sales lady who unearths the ultimate secret to regularization; while Fatigued is about an employee who overslept and must wake-up from a nightmare.
Living Things is about a woman who discovers that her decade-long lover has turned into a cardboard standee. Pabasa kan Pasyon follows a Bicolano family that turns to religion to make both ends meet.
In Quing Lalam Ning Aldo, a transgender sampaguita farmer decides to renovate their neglected kitchen as soon as she hears that her son is going home. The Slums, on the other hand, follow a documentary team who progressively intervenes and trespasses into the lives of a poor family living in the slums as they try to cope with the loss of their TV.
In Tokwifi, a 1950s mestiza star, trapped inside a television that fell from the sky, dreams up a romantic romp with a Bontok Igorot man who does not know how to kiss. Meanwhile, Utwas narrates how a young boy discovers the ocean as he tries to learn how to dive and fish.
Aside from the main competition, the Cinemalaya will have a specially-curated Short Films in Exhibition, featuring 20 short films namely: Ang Meron Sa Wala (Beyond Nothing) by Arby and Christine Larano; Ang Nawalang Haligi (Pillar) by Sarah Mya Regacho; Dama De Noche by Lawrence Sibug; Grand Gestures by Cody Abad; Gulis (LINES) by Kyle Jumayne Francisco; Habak by Paolo Matibag and Mia Salisbury; Himagsik ng Hiwaga (Revolt of the Mystic) by Geoffrey Solidum; Igib by Joey Paras; Jepoy by Avid Liongoren; Kung Saan Patag Ang Bundok (Where The Horizon Meets The Mountain) by Dolliete Echon; OctoGod by Shievar Olegario; Paon by Seb Valdez; Pinakanakapagpapabagabag-Damdamin (Most Disturbing Feeling) by Jermaine Tulbo; Si Gloria at Si Juan by Gilliano Salvador; Sumasaiyo, (Yours truly,) by Jermaine Tulbo; Tarang (Life's Pedal) by Arvin Alindogan Belarmino; and The Rooftop by Avirup Biswas.
Gawad CCP Para sa Alternatibong Pelikula at Video, the longest-running independent film and video competition in Asia, will also continue its run this year.
Visions of Asia, one of the major components of the film festival, will screen award-winning indie films from Asia.
Cinemalaya will also pay tribute to individuals who have made great contributions to the Philippine film industry – director Peque Gallaga and actress Anita Linda.
Screenwriter Ricky Lee, in partnership with Cinemalaya, will conduct a scriptwriting masterclass. There will also be a virtual reunion of his writing workshop alumni.
Don't miss out on other Cinemalaya components such as the Cinemalaya Restrospectives, featuring past Cinemalaya films, and Cinemalaya Campus, among others.
For more updates, please visit the CCP and Cinemalaya websites. Follow the official CCP and Cinemalaya social media accounts.