12 WEEKS
by ANNA ISABELLE MATUTINA
105:00 minutes | Drama | R-13 | GAD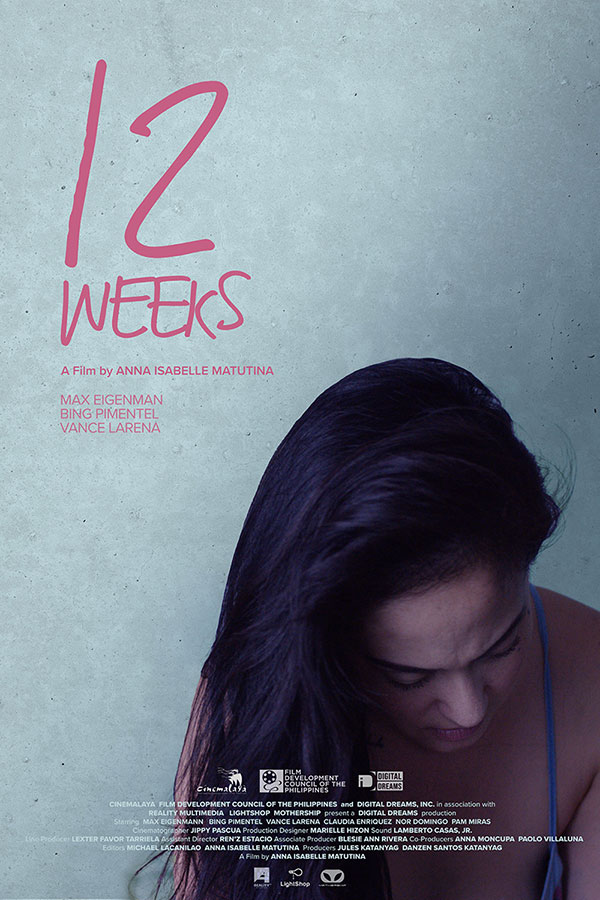 FILM SCHEDULE
August 6, 2022 6:15 PM Tanghalang Huseng Batute

August 9, 2022 9:00 PM Main Theater

August 10, 2022 2:00 PM SM Cinemas

August 11, 2022 3:30 PM Tanghalang Huseng Batute (THB)

August 12, 2022 6:15 PM Main Theater

August 13, 2022 6:10 PM Ayala Cinemas

August 14, 2022 4:30 PM SM Cinemas

August 16, 2022 3:50 PM Ayala Cinemas
CAST
Max Eigenmann, Bing Pimentel, Vance Larena, Claudia Enriquez
PRODUCTION
DIRECTOR Anna Isabelle Matutina
SCREENPLAY Anna Isabelle Matutina
EDITORS Michael Lacanilao, Anna Isabelle Matutina
DIRECTOR OF PHOTOGRAPHY Jippy Pascua
SOUND DESIGNER Lamberto Casas, Jr.
PRODUCTION DESIGNER Marielle Hizon
EXECUTIVE PRODUCERS Jules Katanyag, Danzen Santos Katanyag
LOGLINE
A single, 40-year-old woman discovers she is pregnant after breaking up with her boyfriend and must decide whether she wants to be a mother or not.
SYNOPSIS
After ending her toxic relationship with her boyfriend Ben, 40-year-old Alice discovers she is pregnant. With her age and current relationship status, her first instinct is to have the pregnancy terminated. As her body undergoes dramatic changes, Alice struggles and needs to decide what to do. Will she slide back into the arms of Ben? What will this mean for the child growing inside her?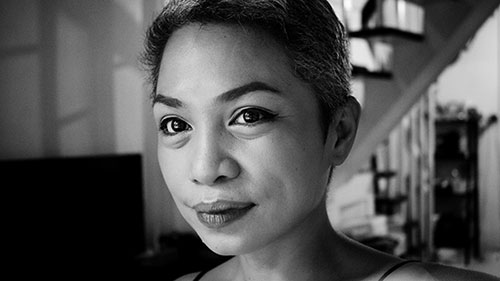 FILMMAKER'S PROFILE        
ANNA ISABELLE MATUTINA is a multi-awarded filmmaker who has been producing, writing, directing, and editing her own short films since 2004. She currently works as a director and editor for the documentary program I-Witness where she and her team have bagged multiple local and international awards including the prestigious George Foster Peabody Award in 2009 and a nomination for the International Emmy Awards in 2013.
12 Weeks is her first feature-length film. It has participated in the Bangkok Asean Film Festival's first edition of the Southeast Asian Project Pitch (SEAPITCH).
The filmmaker's email is isabelleestein@gmail.com.
DIRECTOR'S NOTES
When I started writing 12 Weeks in late 2017, I was about to turn 40 and struggling with the likelihood of never having children. So I took to writing in order to confront my frustrations and feelings of inadequacy as well as reexamine my preconceived ideas about motherhood.
That journey was messy but cathartic, an earnest attempt to expose myself and my darkest thoughts. And though I still have no clear answers, I knew I had a story – one that I've always hoped to see in our own local cinema.
12 Weeks is not just a story about mothers but the modern Filipino woman who continues to struggle in a highly conservative and deeply patriarchal country where anti-woman laws continue to exist and misogyny is as blatant and common as your daily dose of midnight press conferences. It is about the women who struggle to give birth to the kind of world we want our children to live in.
FILM STILLS
BEHIND THE SCENES
Share This Story