ECQ Diary (Bawal Lumabas)
by Arlyn Dela Cruz Bernal
95:00 minutes | Comedy/Drama | 2021 | GP
Two sisters in their sixties reunited in one house during the Enhanced Community Quarantine (ECQ) of 2020. Confined in just one place because of the pandemic, the two sisters, Susan and Amalia, found themselves confronting an old issue that kept them apart for many years.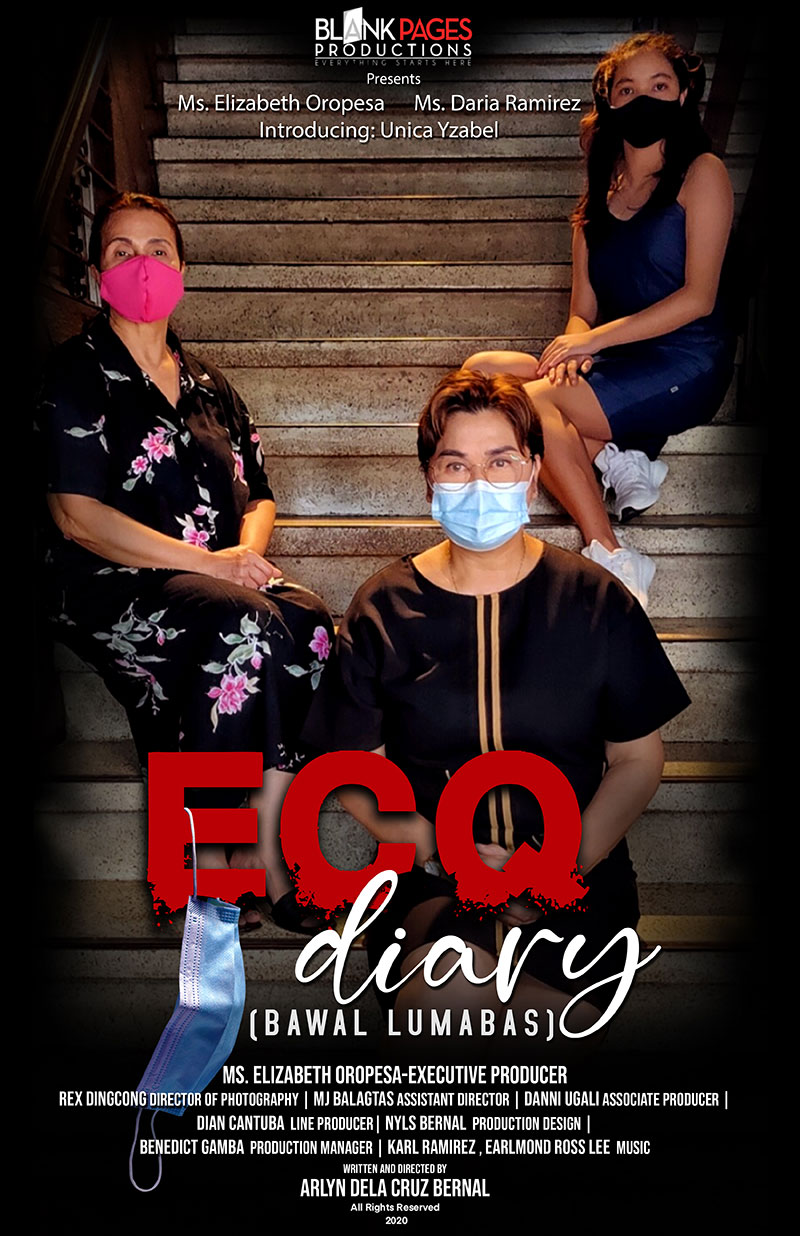 Film Stills
MAJOR CREDITS
Cast: Elizabeth Oropesa, Daria Ramirez, Unica Yzabel, Danni Ugali, Joshua De Guzman, Anthony Bayarong, Janiel Lorenzo, Krizytynne Reign Nodalo and Maegan Ysabelle Punla
PRODUCTION:
Director: Arlyn Dela Cruz Bernal
Story/Screenplay: Arlyn Dela Cruz Bernal
Executive Producer: Elizabeth Oropesa
Associate Producer: Danni Ugali
Line Producer: Dian Cantuba
Director of Photography: Rex Dingcong
Assistant Director: Mary Jane Balagtas
Production Manager: Benedict Gamba
Production Designer: Nyls Bernal
Editor: Dian Cantuba
Music: Karl Ramirez, Earlmond Ross Lee
Costume Designer: Benedict John Gamba
Cameraman: Shinji Abe
Gaffer: Renetorre Garot
Make-up Artist: Lorie Uson-Anoche
Production Assistants: Joshua De Guzman, Juanita Rapada-Cabanela, Elmer Sasoter
BTS Stills and Video: Bert Portea
In-Charge of Publicity: Mark Louie Corciega, Fernan De Guzman
Catering: Carline Bundang
Post Production: Blank Pages Production
Post Production Team: Mary Jane Balagtas, Mark Mercado, Benedict Gamba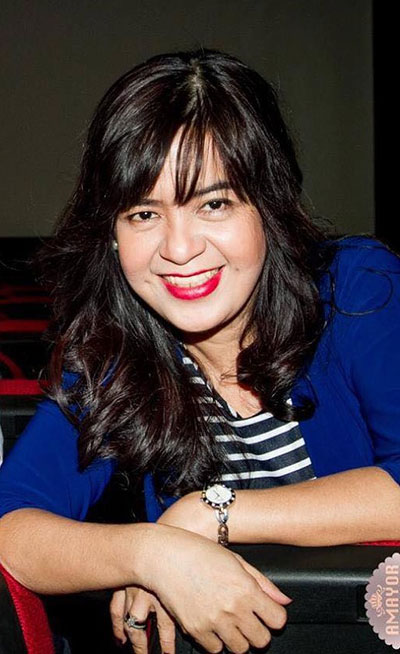 "Yes, I am that journalist, that film director, that writer, and yes, I am also an artist," this was the self-description of ARLYN DELA CRUZ BERNAL on her personal Facebook account. The Philippine Movie Press Club (PMPC) Star Awards for Movies conferred on her the Star Award for Indie Movie Screenwriter of the Year for her first feature film Maratabat (2014).
In 2016, Maratabat was screened at Julia de Burgos Performing Arts Center in New York City and won the Best International Film Award at The People's Film Festival in New York. In the same year, she directed her second film Tibak (2016) which garnered the Star Award for Indie Movie Original Theme Song of the Year for the song "Panata".
Dela Cruz Bernal directed Bubog (2017) prior to her health crisis in 2019. During her recovery, prodded by friends like veteran actress Elizabeth Oropesa, she took on painting. She showcased her paintings in an exhibition series called "Hindi Ako Pintor" in 2019 and, again, in 2020.
Dela Cruz Bernal is also the news director of dzIQ Radyo Inquirer, and is a frequent contributor to the platform.
Share This Story