MAJOR CREDITS
Cast: Luis Padilla, Adrian Arias, Rap Robes, Megan Sharpe, Steven Eduard Yu, Gaye Piccio, JM Martinez, Beverly Benny, Dindeth Ditablan, Nanette Gamboa, Yuri Ladrero, Yoh Buenaventura, Naomi Christine Gamboa, Aaron Javier, Justine Suan and Potinairs Vicente
PRODUCTION:
Director/Scriptwriter/Editor: Tim Muñoz
Director of Photography: Eldrin Flores, Sr.
Line Producer/Location Manager/Field Cashier: Nanette Gamboa
Associate Producer/Casting Director/Assistant Director: KC Manuel
Musical Scorer: Doy Ongleo
Colorist: Joe Nico Ebora
Visual Composing Artist: Luis Pancho Eleazar
Sound Engineers: Aeneid John Pajo, Tim Muñoz
Rotoscoping Artists: Ian Mayo Jaucalla, Lester Labaco
Prosthetics Artist: Eric Cabillo
Camera Operators: Armin Castillo, Jeffrey Lomeda
Audioman: Jonathan Liwag
Gaffer: Jeffre Lucas
Production Designer: Yoh Buenaventura
Art Department: Rodel Calimon, Eyo Garcia, Gelo Justiniani, Justin Reyes, Vincent Salita, Potinairs Vicente
Make-up Artist: Georgia Poja
Costume Designer: Lhester Dee
Production Assistant: Dindeth Ditablan
Wardrobe Assistant: Aaron Javier
Make-up Assistant: Justine Suan
Runner/Utility: Eyo Garcia, Clhoe Garcia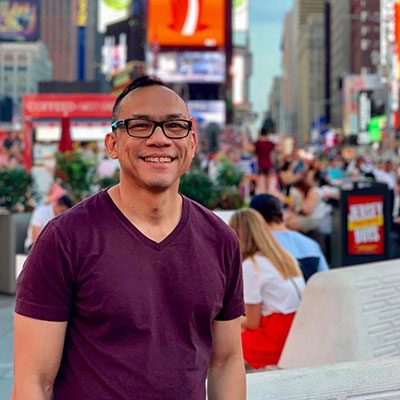 TIM MUÑOZ is a director, writer and film editor. His love for film, particularly of independent movies, classical filmmakers and the French New Wave creators, brought him to the New York Film Academy where he took courses to further hone his craft. After 15 years of working as a director and scriptwriter for ABS-CBN and TV5, he ventured into directing. His first film was the 30-minute Estranghero (2016) followed by Hombre (2017), Lodi (2018), and Don Filipo (2021).
As of current, Don Filipo has bagged the Best LGBT Film award from three international festivals: the Stockholm City Film Festival (Sweden), the Luleå International Film Festival (Sweden), and the Mabig Film Festival (Germany). It won Best International Feature Film at the Uruvatti International Film Festival (India).
Muñoz, who lives and works in Washington D.C., frequently returns to the Philippines for his filmmaking endeavors.
Share This Story