MAIN PRODUCTION CREW
Director: Kyle Nieva
Screenwriter: Kyle Nieva
Producer: Carlo Francisco Manatad | Kyle Nieva | Gian Carlo Librojo | Krizzia Nieva
Executive Producer: Anna Weeks | Maan Villareal
Director of Photography: Tey Clamor
Music Scorer: Len Calvo
Editor: Carlo Francisco Manatad | Kyle Nieva
Sound Designer: Kat Salinas
Production Designer: Alvin Francisco
Main Cast:
Mystica, Alexis Negrite, Ces Aldaba
Logline:
A prepubescent boy discovers the power of his sexuality during a religious camp, as he realizes his special role in the prophesied return of the Son of God.
Short Synopsis:
J.C., a prepubescent boy, slowly learns of his special role in the impending apocalypse during a religious camp. As he participates in the camp activities, he gets confused between constantly emerging sexual fantasies and his divine calling.
Director's Profile: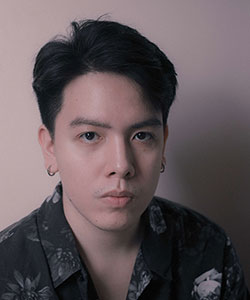 Kyle Nieva is a Filipino producer and director. He co-founded the Manila-based creative agency and production company Screen Asia. At the age of 18, he began exhibiting his directorial work in institutions such as the Cultural Center of the Philippines and the EYE Filmmuseum in Amsterdam, and started earning his first national and international accolades. The films he directed and produced have since been selected for various international film festivals–including Berlinale, San Sebastian, Busan, and Vancouver–and broadcast in over 70 territories globally.
His recent work as producer, Filipiñana, won the Silver Bear at the 70th Berlinale and was nominated for Best British Short at the British Independent Film Awards and at the London Critics Film Awards. His latest film as director, entitled Kids On Fire, premiered in competition at the 25th Busan International Film Festival and at the 47th Film Fest Gent. Aside from fiction films, his new works-in-progress include documentary and virtual reality projects.
Kyle graduated with a bachelor's degree in Film at the University of the Philippines Film Institute. He is an alumnus of Tribeca Film Institute's Talent Lab and the 73rd Festival del Film Locarno's Open Doors Lab. Aside from directing and producing, he has been involved in marketing, distribution, and festival programming of shorts and features in the Philippines.
Director's Notes:
Kids On Fire is a a satirical portrait of bewildered prepubescent children passing through the threshold of sexual awakening while being subject to religious indoctrination. Inspired by Christian doctrines and eschatological concepts that horrify and confuse children at times, the film explores how faith can be driven by fear and how we use our religious beliefs–or a lack thereof–to make sense of life's greatest mysteries.
Share This Story