Looking for Rafflesias and Other Fleeting Things
MAIN PRODUCTION CREW:
Director: James Fajardo
Screenwriter: James Fajardo
Producer: Christine Daisy Dela Paz
Executive Producer: Arsenio "Nick" J. Lizaso, Al Ryan S. Alejandre and Marichu G. Tellano
Director of Photography: Rocky Morilla
Music Scorer: Janell Pangilinan
Editor: James Fajardo
Sound Designer: Janell Pangilinan
Production Designer: Angel Tomas
Main Cast:
Reynald Raissel Santos (as Gubat), Kevin Andrews (as Darren), Ash Nicanor (as Mayumi)
Logline:
A tikbalang (horse demon) who transforms into a teenage boy tries to disprove the rumor that horse demons are killing civilians in the mountain.
Short Synopsis:
A community fears tikbalang (horse demon) after being blamed for various killings in the forest. One of the residents, Gubat, a tikbalang who transforms into a teenage boy, searches for the truth in the mountain where he meets Darren, an American botanist looking for rafflesias. His interactions with the American guy unravels his inner desires that he has never faced before. This pushes him to reveal his identity which puts his life at risk.
Director's Profile: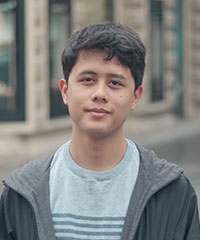 JAMES ALLEN FAJARDO graduated magna cum laude from the University of the Philippines Diliman with a degree of Bachelor of Arts in Film last June 2020. He has also taken courses on Gender and Media Studies at Utrecht University in the Netherlands for his exchange program last 2019.
His previous works such as A Letter to the Person I Have Met on Tinder and The Boy Who Bleeds in the Middle of the Sea were awarded and selected in different international and local film festivals. His recent feat was when he won the Gold Prize at the Viddsee Juree Awards Philippines 2020. Currently, he is working as a freelance multimedia artist for different international brands while pursuing his passion in filmmaking.
Director's Notes:
Looking For Rafflesias and Other Fleeting Things attempts to deconstruct the representation of tikbalang as often depicted as dangerous creatures in films, literature and other forms. In this way, the filmmaker sought to fulfill its objectives such as, first, to illustrate the weaponization of folklore beliefs in order to serve the interest of the state and the ruling class; and, second, to introduce the process of queering mythological creatures that challenges its previous heterosexist influences. For the filmmaker, mythological creatures such as tikbalang should be loved, if not, befriended.
Share This Story