AMPANGABAGAT NIN TALAKBA HA LIKOL
A girl resists her childhood home's attempts to destroy her using her own personal history.
The world is about to end. Maya is forced to go home to Zambales. There, she confronts her childhood house that terrorizes her as frogs rain outside.
CAST
Alyana Cabral
PRODUCTION
DIRECTOR Maria Estela Paiso
SCREENPLAY Maria Estela Paiso
EDITOR Maria Estela Paiso
PRODUCER Gale Osorio
CREATIVE CONSULTANT Keith Deligero
DIRECTOR OF PHOTOGRAPHY Eric Bico
CG ANIMATION Vladimer Castañeto
ONLINE ANIMATION Shaine Robles, Tricia Bernasor
STOP-MOTION ANIMATION Maria Estela Paiso
SOUND DESIGNERS Yügen Bei Bei, Lawrence S. Ang
SCORE Alyana Cabral
PRODUCTION ASSISTANT Kevin Paguntalan
EXECUTIVE PRODUCERS Eduardo Lejano Jr., Manet Dayrit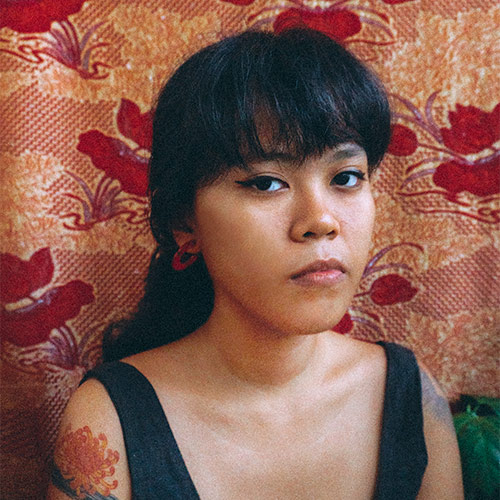 FILMMAKER'S PROFILE
MARIA ESTELA PAISO has worked in post-production since 2016, editing features and short films. After numerous visual experiments and hip hop music videos, she forayed into directing with Ampangabagat Nin Talakba Ha Likol (It's Raining Frogs Outside), which was part of QCinema 2021 and Berlinale Shorts Competition 2022. She spends her free time trying to get a 100 in karaoke.
The filmmaker's email is estelapaiso@gmail.com.
DIRECTOR'S NOTES
Armed conflicts ruin the basic necessities of life. Families are broken apart, opportunities are lost. Dreams – especially those of the children, if they even had the chance to have any – are shattered.  Unfortunately, up to this day, wars still continue to destroy the lives of many. Children are always the most vulnerable. The impact of war adversely affects the life trajectory of the young ones.  But this is always being overlooked. This film is made to take a closer examination of the distressing battles children have to fight because of the decisions that adults make.
FILM STILLS
BEHIND THE SCENES
Share This Story