An Aeta boy chases his dream of going to school to learn how to read the legal documents given to their community and understand why they are being forced to give up their ancestral lands.
Itan, a 12-year-old Aeta, is told to quit school and help his father in planting mountain crops so they can save up for the delivery of his pregnant mother.
The young boy finds a flicker of hope when he learns about a scholarship opportunity that he could possibly receive on two crucial conditions: one, he has to learn how to operate a computer and two, he has to convince his father to allow him to return to school.
Only then would he be able to realize his long-time goal to read through all the documents the Aeta community had been receiving. Only then could he understand why they were being forced to give up ancestral lands up in the mountain to give way for mining.
CAST
Ron King, Shella Mae Romualdo, Norman King, Jonalyn Ablong, Liya Sarmiento
PRODUCTION
DIRECTOR Zig Dulay
SCREENPLAY Zig Dulay
EDITOR Zig Dulay
DIRECTOR OF PHOTOGRAPHY Mark Joseph Cosico
MUSIC SCORER Gian Gianan
SOUND DESIGNERS Nicole Amores, John Michael Perez, Mikko Quizon
PRODUCTION DESIGNER Aped Santos
EXECUTIVE PRODUCERS Arsenio "Nick" J. Lizaso, Al Ryan S. Alejandre, Marichu G. Tellano CO-PRODUCER Uncle Scott Global Production
LINE PRODUCER Jed Medrano
SUPERVISING PRODUCERS Elvert C. Bañares, Tanya P. Lopez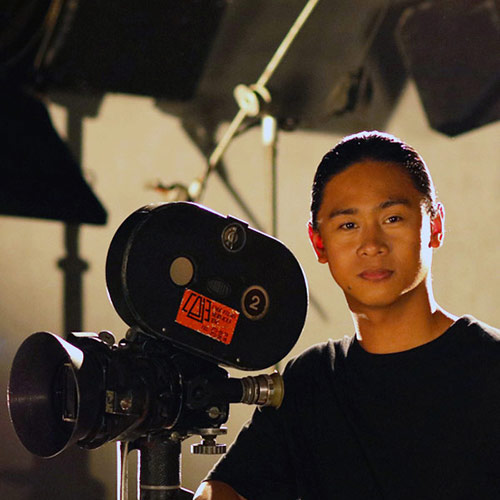 FILMMAKER'S PROFILE
ZIG DULAY is a Filipino filmmaker known for creating provocative regional films that explore socio-political and cultural issues. Early in his career, he gained local and international critical attention for his screenwriting potential as he penned numerous screenplays such as Ekstra (The Bit Player), Posas (Shackled), Qwerty, Kasal (The Commitment) and Ad Ignorantiam.
After collaborating with acclaimed directors, he wrote and directed numerous award-winning films including Missing, M. (Mother's Maiden Name), Bambanti (Scarecrow), Paglipay (Crossing), Bagahe (The Baggage), Akin ang Korona (The Crown is Mine), and Black Rainbow.
Dulay also helmed the hit cultural-drama series Sahaya and Legal Wives. Recently, he was invited to be one of the international jury members of the 2022 Vesoul International Film Festival for Asian Cinema in France.
The filmmaker could be reached via zigcarlo@yahoo.com.
DIRECTOR'S NOTES
Black Rainbow is a tale about the Aetas who dream and trust that the first step to a better life is through education. This story of people's hope rests upon complicated issues brought about by rampant mining that has been affecting Indigenous Peoples (IPs) in the country.
The film is a personal tale. It recounts my younger years when I chanced upon an old keyboard and played with its keys until I memorized their positions. I used this random knowledge when I aced a scholarship exam that required the use of a computer, much to the surprise of people who knew I was from a remote farming village.
I sketched this inspirational story through a young Aeta boy. Another inspiration to this story is my good friend Norman King, an Aeta from Porac, Pampanga, who earned a BA Behavioral Sciences at UP Manila.
Over the course of my filmmaking career, I have learned so much about the lives of IPs that could last me a lifetime. I have grown fond of their gentle lives and learned how to carefully present these stories in film. More importantly, I learned the value of responsible IP representation in media, for these stories we portray are more than the sum of a culture and way of life. I believe it is our duty as storytellers to depict them in the right and appropriate manner —a small contribution to the wider efforts of ending the cycle of telling a single story and othering.
FILM STILLS
BEHIND THE SCENES
Share This Story