Ang Pagdadalaga ni Lola Mayumi
MAIN PRODUCTION CREW
Director: Shiri De Leon
Screenwriter: Shiri De Leon, Darlene Ballano
Producer: Darlene Ballano
Executive Producer: Darlene Ballano
Director of Photography: Roy Ocampo
Music Scorer: Denise Ballano
Editor: Shiri De Leon
Sound Designer: Jeremiah Villardo
Production Designer: Bryant Gali
Main Cast:
Ruby Ruiz, Julian Roxas, Xenia Callista, Darlene Ballano, Michelle Gallero
Logline  
Lola Mayumi, known as the "Town Virgin" books a room in a motel and hires a callboy to hopefully change her and her perspective about men.
Short Synopsis
The short film follows Lola Mayumi; who despite her old age, is labeled in their town as the "Old Virgin". She chose to have no romantic or sexual experience because she believes that men are just after sex and money. But because of a decade long teasing and label by the town, she books a room in a motel and hires a young callboy to change that.
The callboy believes that he needs to do what he needs to do for money, never expecting that he will have a client as old as Lola Mayumi. So when they meet, an unlikely connection between the two begins to form. Lola Mayumi becomes deeply vulnerable and "naked" with him and she reveals the true reason on why she chose to remain pure.
A night of intimacy and vulnerability as Lola Mayumi tries to get over her fear and trauma from the past. Both beliefs of Mayumi and callboy will be questioned. Her belief of how she sees men will be tested, are they really all bad? Or are there actually good men out there?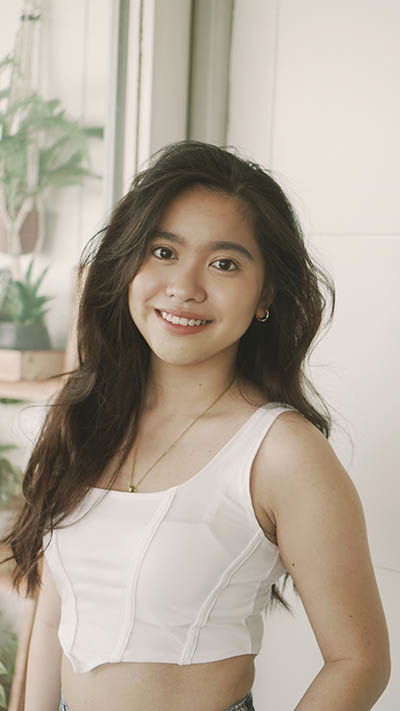 Directors' Profile
Shiri de Leon is a young filmmaker that was born on September 20, 2001 in Manila, Philippines. She is currently pursuing her Bachelor's degree in Film at Meridian International College in Pasig City. Ang Pagdadalagani Lola Mayumi is her first proper short film as a passion project.
She grew up in a family of media practitioners who is currently running a show called "Mag Agri Tayo" on channel 11. So she learned about the craft of filmmaking from her family members. She also grew up developing her skills in arts and dancing and she tries to apply the creative processes and discipline that she learned from that to her production and filmmaking process. She fell in love with the art of storytelling and aspires to be the messenger of stories that really matter.
She loves stories that push the beliefs of humanity while not being afraid to tackle topics and issues that are important and can be translated universally. Shiri hopes to continue being that visual storyteller as her career goes forward. She aspires to break stereotypes as she continues to push and show that young female directors are not shy to visually tell collected stories that are not usually talked about by a lot of people. She continues to work and collaborate with different people and always adds a piece of them and her heart in her work.
Directors' Notes
This film is the lovechild of my past experiences and beliefs as a young woman for the longest time. I was heavily exposed to the Filipino culture of how they treat sex as a "Taboo" topic because of the influence of religion. I also have witnessed and know firsthand the effect of it being a taboo topic, it limits the lack of sex education to people and a lot of people fall into its abuse, not knowing if it's normal or not. I was inspired to write this film as therapy, if you call it, a weight off my chest as I wanted to simply tell a story about what it really means to be a "true woman". Hence the title, Ang Pagdadalagani Lola Mayumi.
As a college student currently pursuing my Bachelors in Film, I already have my friends who are exceptionally skilled in what they do and production was easy with them. They felt my intention to the film and they added more flair to it. I have had the idea of doing it as a stylistic way to give homage to the Golden Age of Cinema films. I also wanted the overall colors to be quite unexpected with this theme, such as the color green and yellow which are undertone colors of sexual energy and passion besides red. I already wrote this character with Ruby Ruiz in my mind, fortunately she loved the script and gave so much life to Mayumi that I'd ever dreamed of. Casting Julian Roxas was a big risk for me because he didn't really look like the character that I envisioned but he was the perfect complement to Ruby and their chemistry was breathtaking to watch.
Mayumi believes that "all men are terrible" and the callboy believes that "I need to prioritize money above everything". These are the two beliefs that I have always wanted to clash and see if their beliefs will be tested or not. This film is really a part of my heart and experiences and this film can hopefully start conversations about this topic.
Share This Story