Batsoy
by RONALD ESPINOSA BATALLONES
66:00 minutes | Drama, Fantasy | General Patronage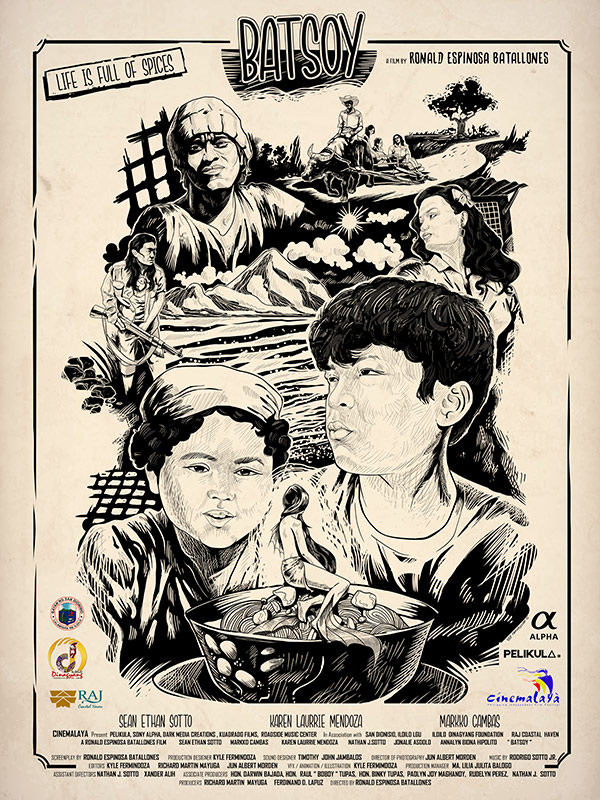 FILM SCHEDULE
August 7, 2022 3:30 PM Tanghalang Huseng Batute (THB)

August 8, 2022 6:15 PM Main Theater

August 10, 2022 7:00 PM SM Cinemas

August 10, 2022 9:00 PM Tanghalang Huseng Batute (THB)

August 12, 2022 6:10 PM Ayala Cinemas

August 12, 2022 9:00 PM Main Theater

August 13, 2022 4:30 PM SM Cinemas

August 14, 2022 3:50 PM Ayala Cinemas
Two young siblings go on a fantastical adventure to satiate their much-coveted and delectable craving for batsoy.
After selling firewood for their basic needs, siblings Toto and Nonoy go and buy batsoy, the food that the younger brother has been craving the most. Mt. Manaphag, which faces the town of San Dionisio, becomes the silent witness to their journey to satisfy their craving. Their adventure will ultimately bring viewers to a world of magic, fantasy and reality.
CAST
Sean Ethan Sotto, Markko Cambas, Karen Laurrie Mendoza, Nathan J. Sotto, Jonalie Asdolo, Annalyn Biona Hipolito
PRODUCTION
DIRECTOR Ronald Espinosa Batallones
SCREENPLAY Ronald Espinosa Batallones
ASSISTANT DIRECTORS Nathan  J. Sotto, Xander Alih
EDITORS Kyle Fermindoza, Richard Martin Mayuga, Jun Albert Morden
DIRECTOR OF PHOTOGRAPHY Jun Albert Morden
MUSIC SCORER Rodrigo J. Sotto, Jr.
SOUND DESIGNER Timothy John Jambalos
PRODUCTION DESIGNER, VFX , ANIMATION  Kyle Fermindoza
PRODUCTION MANAGER  Ma. Lilia Julita Balogo
PRODUCERS Richard Martin Mayuga, Ferdinand D. Lapuz
LINE PRODUCER Richard Martin Mayuga
FILMMAKER'S PROFILE        
After working in Kuwait as a Medical Laboratory Scientist, RONALD ESPINOSA BATALLONES returned home to fulfill his dream to become a director. His film Excuse Me Po, which won in the MTRCB Screenplay Writing Contest in 2015, was a finalist in the 2018 Cine Filipino , starring  Ms. Elizabeth Oropesa. He was part of the  Cinefilipino  2020 , digital film series Raket, which was based on his award-winning screenplay Kalyehera. The Ilonggo director from San Dionisio is currently working on Benedict Mique's Two Love You and Martin Mayuga's Anatomiya. He is inspired by the simple narratives of people around him or by his first-hand observations of life's explicit and subtle realities.
Batallones' email is boardmates@yahoo.com.
DIRECTOR'S NOTES
The film presents a simple, happy, and innocent life of the youth in the 1980's amidst the rural landscape to today's millennials. One of the film's goals is for millennials to cherish and relive this mystical and enchanted past which they unfortunately did not experience.
The film likewise provides viewers the ultimate sensory experience to savor the famous comfort food of the Ilonggos: the Batsoy.
Most importantly, the film highlights the noble and supreme love of an elder child for his younger sibling which in turn would lead the audience members to reach out and give a much-coveted hug to their sibling.
FILM STILLS
BEHIND THE SCENES
Share This Story