BULA SA LANGIT
Trigger
by SHEENLY GENER
80:00 minutes | Drama | R-13 | Strong Language, Sex, Violence GAD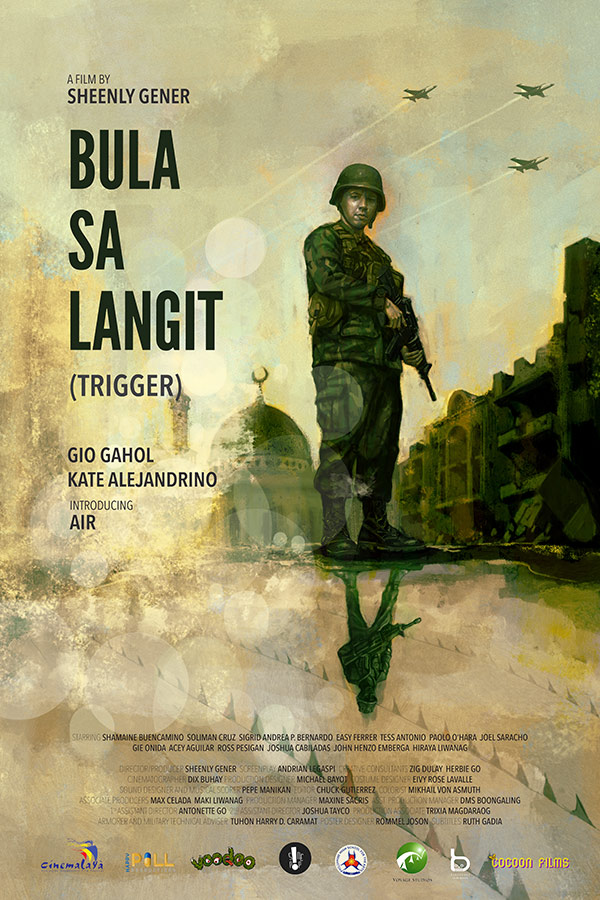 FILM SCHEDULE
August 6, 2022 9:00 PM Main Theater

August 8, 2022 3:30 PM Tanghalang Huseng Batute (THB)

August 9, 2022 3:30 PM Main Theater

August 10, 2022 8:30 PM Ayala Cinemas

August 11, 2022 4:30 PM SM Cinemas

August 11, 2022 9:00 PM Tanghalang Huseng Batute (THB)

August 12, 2022 1:30 PM Ayala Cinemas

August 14, 2022 7:00 PM SM Cinemas
Acting as if coming home from a vacation, young Marawi war veteran Wesley is excited to bring his girlfriend Ritz home to meet his family. Showered with unsolicited hero worship upon his homecoming, Wesley struggles to reconnect his present relationships with his family and lover all while celebrating the town fiesta. Overwhelmed and alienated, the young soldier finds himself haunted by one of his traumatic kills, and in this internal war he is alone. Compounded and triggered, his frustration shoots up in one of his conversations with Ritz. He impulsively goes to the carnival to confront his trauma.
CAST
Gio Gahol, Kate Alejandrino, AIR
PRODUCTION
DIRECTOR Sheenly Gener
SCREENPLAY Andrian Legaspi
CINEMATOGRAPHER Dix Buhay
EDITOR Chuck Gutierrez
MUSIC SCORER/SOUND DESIGNER Pepe Manikan
PRODUCTION DESIGNER Michael Bayot
EXECUTIVE PRODUCERS Sheenly Gener, Happy Pill Productions, Voodoo, Sine Pop, Chuck Gutierrez, Baby Ruth Villarama, Joel Limchoc, Chrysalis Films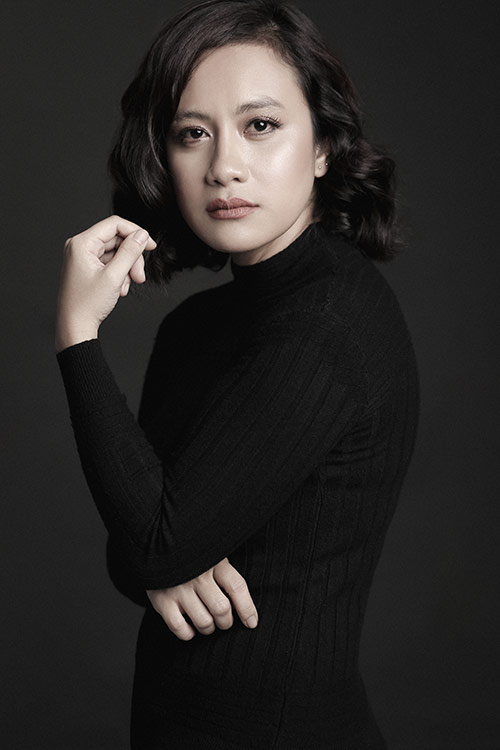 FILMMAKER'S PROFILE        
SHEENLY GENER is a Berlinale Talents alumna and award-winning actress for stage, television, and film. She won the Best Supporting Actress for her performance in Emerson Reyes' Dormitoryo (Mga Walang Katapusang Kwarto) in the 2017 QCinema International Film Festival. She was nominated for Best Actress for her performance in the theater play Insiang in the 2002 Aliw Awards.
She holds an arts management degree from De La Salle College of Saint Benilde, and was a full scholar for theater arts at the Philippine High School for the Arts (PHSA). Her short film Ikahuli was a finalist in the 31st Gawad  Alternatibo and in the .giff Festival of New Cinema. She is a mother, director, teacher, acting coach, yogi, kalista, biker, voice talent, and dubber. She is an SM, ASM, AD, 2AD, SC, FD, LP, PM and many other acronyms in a colorful and compact package.
Gener's email is s.v.gener@gmail.com.
EXCERPT FROM THE DIRECTOR'S NOTES
Bula sa Langit is about Wesley, a young soldier's homecoming. Passively tending to unseen wounds as he adjusts to life and his relationships, an unseen post-war. It explores the different scenarios of reintegration, unintentional exoticization of tragedy, and alienation. The story covers the shifting realities and secrets – how he moves and attempts to cope with changes.
War changes everything. It changes everyone.
There is no denying the reality of war. But the bigger, more aggressive reality – begins once the war is over – going back to our families and loved ones. How does one deal with the shifting of these realities?
Soldiers are trained to be void of emotions. Become weapons of war. How does this affect them and their relationships as they shift between the realities during periods of turmoil and peace? After being deeply immersed in a setting where home means togetherness in triumph, which means bloodshed, how do you return to a home you were built to set aside?
Not all wounds bleed. Not all wounds are visible, but in war, all wounds run deep.
FILM STILLS
BEHIND THE SCENES
Share This Story