MAIN PRODUCTION CREW:
Director: Myra Aquino
Screenwriter: Myra Aquino, Eric Hwang
Producer: Tita Pambid, Reuben Domingo
Executive Producer: Myra Aquino
Director of Photography: Tey Clamor
Music Scorer: Nathan Matthew David
Editor: Lawrence Fajardo, Myra Aquino
Sound Designer: Matt Yocum
Production Designer: Juan Pablo Pineda III
Main Cast:
Febie Agustin, Lau Apostol, Norman King, Bajun Lacap
Logline:
Set in the Philippines during World War II, a young woman struggles to find herself after losing her father.
Short Synopsis:
1940, Pampanga, Philippines– Remedios Gomez is a classic woman through-and-through, and she has the town's beauty pageant crown to prove it. But when the Empire of Japan invades the Philippines, plunging the country into unmitigated chaos and violence, her quiet provincial life is completely overturned. After her father is tortured and killed by the Japanese for his refusal to obey them, she runs to the mountains with her brother Oscar to join the Hukbalahap resistance, and find renewed purpose in the war. Once she arrives in the thick jungle encampment, however, she discovers that not only does being a woman limit her options in the resistance, but her suppressed grief over her father's death continues to stay with her. She must grapple with both obstacles as she tries to find the strength to be who she needs to be for her country– while still unapologetically being herself.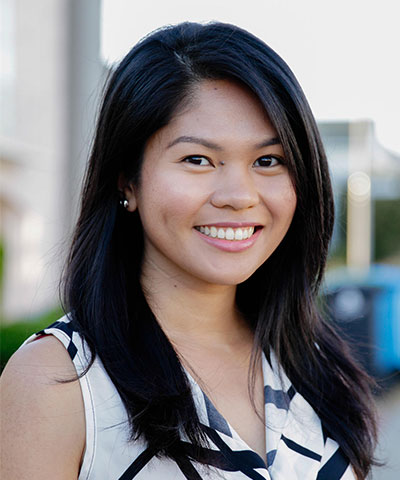 Director's Profile:
Myra Aquino is a writer-director who grew up in Guam and the Philippines, and graduated in 2020 with an MFA in Directing from the UCLA School of Theater, Film, and Television. She is passionate about telling stories that explore the impacts of multiculturalism and globalization on Southeast Asian, Pacific Islander, and other underrepresented communities.
Director's Notes:
Growing up, I had limited exposure to inspiring women who looked like me in the films I watched, and that void bore a burning desire to bring stories about Filipino women to life. And I couldn't imagine a better story than that of Remedios Gomez: a beauty queen who transformed into a fearless resistance leader. Making this film was important to me because it is a reminder that we all have grace and courage within ourselves that we can express without ever giving up who we are.
Telling this story, however, required much more than myself. Capturing a 1940s authenticity– in the same jungle of Mt. Arayat that Remedios had marched through– required research, interviews with her descendants, and perhaps most importantly, the tireless passion and hard work of the communities of Pampanga. Those communities brought in a talented, hard-working crew, and people with limited acting backgrounds who diligently honed their craft through workshops and rehearsals. Together, we braved mosquitoes, a treacherous monsoon season, and a tight production schedule to deliver the beauty you see on screen. I am eternally grateful for this experience and privilege to share a small part of Remedios' tremendous story to the world.
Share This Story