A couple's attempt to survive the devastatingly low yield of their flower farm and raise money for the birth of their first child lead to an unforeseen ending.
As Zamboanga City celebrates the Feast of the Nativity of Mary, couple Elena and Nasser try to survive the devastatingly low yield of their flower farm and raise money for the birth of their first child. As luck would have it, Nasser gets invited to join a peace rally in exchange for some money – a solution to their problems that is too good to pass up.
CAST
Czarina Yecla, Ramli T. Abdurahim
PRODUCTION
DIRECTOR Xeph Suarez
SCREENPLAY Cenón Obispo Palomares
EDITOR Benjamin Tolentino
DIRECTOR OF PHOTOGRAPHY Carlos Mauricio
MUSIC SCORER Glenn Barit
SOUND DESIGNER Jedd Dumaguina
PRODUCTION DESIGNER Popo Diaz
PRODUCER Alemberg Ang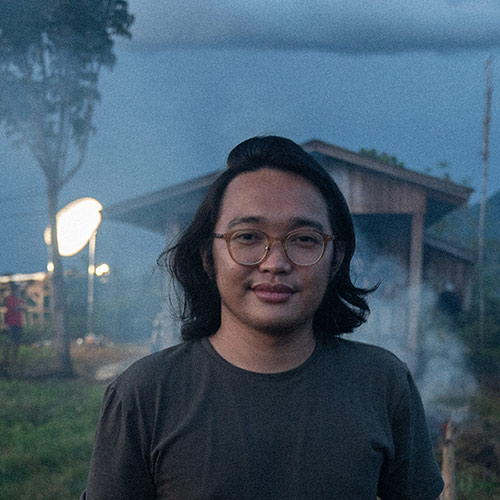 FILMMAKER'S PROFILE
Mindanaoan filmmaker XEPH SUAREZ obtained his mass communication degree at the Ateneo de Zamboanga University in 2014. An alumnus of the ASEAN-ROK Film Leaders Incubator organized by the Busan Film Commission, he has directed several short films including Si Astri maka si Tambulah which won Best Director and received a Jury Citation in Cinemalaya 2018.
Si Astri maka si Tambulah was screened in several film festivals, including the PÖFF Shorts and Tampere Film Festival. The short film became the basis for his first full length feature that has been presented in different labs including EAVE's Ties that Bind and the La Fabrique Cinema in Cannes.
The filmmaker's email is xephsuarez@gmail.com.
DIRECTOR'S NOTES
On September 9, 2013, I woke up to the sounds of gunshots and radio reports that my hometown, the City of Zamboanga City, was under attack by a faction of the Moro National Liberation Front (MNLF) led by its chairman Nur Misuari. The ensuing 20 frightening days, which was known as the 2013 Zamboanga Siege, caused a lot of deaths.
Thousands of Zamboangueños were forced to live in evacuation sites with inhumane conditions. Hundreds of houses and businesses were burnt to the ground, including the company my father helped build for 20 years.
The City of Zamboanga is still pursuing its case against the perpetrators eight years after the Siege. And without justice, I believe that true peace will never be achieved.
City of Flowers is an anti-war short film dedicated to my hometown. When outsiders think of Zamboanga and Mindanao, they think of war and conflict. My film acknowledges this but insists that we are an island of hope and beauty. I am still hopeful that justice will be served, and it won't be long for peace to bloom again.
FILM STILLS
BEHIND THE SCENES
Share This Story