MAIN PRODUCTION CREW
Director:Marc Misa
Screenwriter: LC De Leon
Producer:Marc Misa
Executive Producer:Marc Misa
Director of Photography:Edsel Abesames
Music Scorer:LC De Leon
Editor:Edsel Abesames
Sound Designer:LC De Leon, Joel Mondoneo
Production Designer:Marc Misa
Main Cast:
Niño Mendoza, Arrian Labios, Oscar Ante
Logline
A desperate man attempts to rob a bus, but is beaten to the punch by two seasoned robbers. He is forced to choose whether to be a hero and try to save the people he was about to rob, or become victim himself.
Short Synopsis
Driven by desperation, security guard Gabriel Arkanghell resorts to robbing a bus. Just before he commits the crime, two seasoned robbers beat him to the punch. As a robber approaches, Gabriel tightens his grip on his concealed firearm and struggles to make the decision whether to become a hero and take the robbers down, or become a victim himself.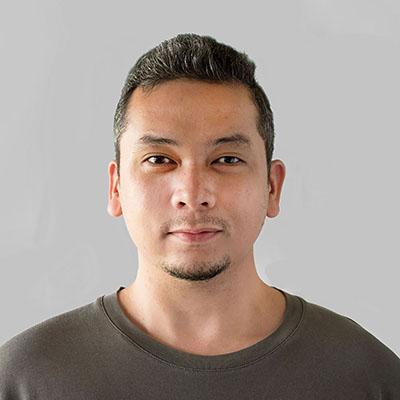 Directors' Profile
Marc Misa is writer and filmmaker based in Antipolo, Rizal. The National Commission for Culture and Arts granted his first feature film, Askal, in 2010.  He then went on to direct commercial advertisements and online content with PaperbugTV. He has also worked on various projects as a screenwriter for Star Cinema. He is currently a graphic designer for a gaming company and working on literary fiction. Whether writing stories or directing films, all his endeavors are geared toward his love for story-telling.
Directors' Notes
The ambiguous character of Gabriel jumps from one role to the other, forcing audiences to repeatedly change their judgment as to whether he is a hero or a villain. In the end, the film reveals our own narrow-mindedness as we oversimplify our definition of morality into those two basic categories: "hero" and "villain, or "good" and "evil". Instead, we should look upon the actions and motivations of people and see if those are right or wrong. The result of failing to recognize the complexities of human beings is often stereotyping, discrimination and prejudice.
Share This Story