MAIN PRODUCTION CREW
Director: Alphie Velasco
Screenwriter: Alphie Velasco
Producer: Nestor Velasco
Executive Producer: Flor Velasco
Director of Photography: Dayne Garcia
Music Scorer: Ivan Cortez
Editor: JB Corpuz
Sound Designer: Kat Salinas
Production Designer: Vanerie Lumaque, Cathrene Anne Joseph
Main Cast:
Kyle Kaizer Almenanza
Marc Felix
Lui Manansala
Logline
A mischievous child arrives on an enigmatic island and learns the value of time and life as he finds his way back home to his father.
Short Synopsis
Santi, an ill-behaved child, steals a dinosaur toy which makes his father mad. He runs away from home but accidentally drowns in the river. He wakes up on a mysterious island where odd traditions are meant to be followed. He's then sentenced to clean the shore full of trash as punishment for stealing the revenant's sacred boat.Luckily, an old woman helps him and they form a strong bond.But after helping the old woman achieve her peace, the revenant finally allows him to leave their sanctuary.He returns home but his father is nowhere to be found. Instead, he finds the dinosaur toy floating on the river.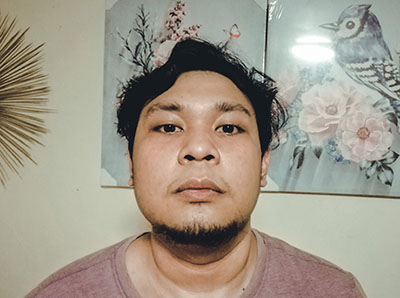 Directors' Profile
A film student from Asia Pacific Film Institute (Batch 19), born on August 12, 1994 and currently resides at Imus, Cavite Philippines. My fascination with films began when I was working as an auditor in a bpo company. I hated my previous work so I ditch most of my office hours just to watch movies . That's when I fell in love with the art of cinema.
I really enjoy mystery and cult stories especially character driven films. Some of my favorite films are Nymphomaniac, Mulholland Drive, 8 1/2, Watchmen, Grindhouse, etc. My favorite film directors are Lars Von Trier, Gaspar Noe , Quentin Tarantino, Darren Aronofsky and Roman Polanski. I also love reading manga and watching japanese animations especially the works of Satoshi Kon and Junji Ito. My music taste varies from psychedelic to progressive metal.
Directors' Notes
When watching movies, I always think about how fun is it to live in a fictional world different from reality. Back when I was still an innocent child, I reluctantly visited my mother's hometown, Caramoan. But once I'd arrived, I was captivated of how simple and beautiful that place is. So I made a story based on my experience, yearning the days I'm blissfully living with my late grandmother. Also mixed in some personal thoughts on how I view the cycle of life and religion. I primarily dedicate this film for my parents.
Share This Story