HM HM MHM
by SAM VILLA-REAL AND KIM TIMAN
5:00 minutes | DRAMA, HORROR, EXPERIMENTAL | PG-13 | Horror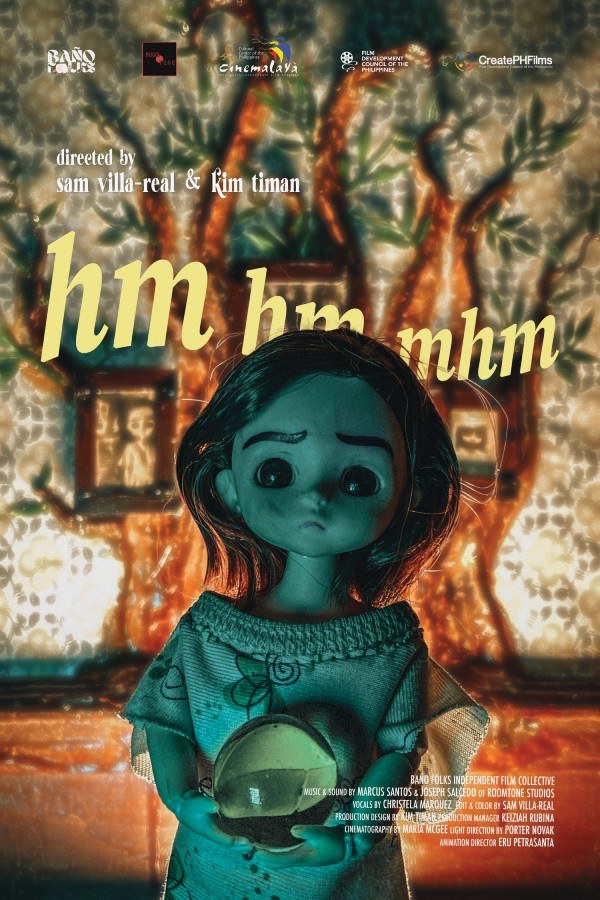 FILM SCHEDULE
August 6, 2022 6:15 PM Tanghalang Huseng Batute

August 9, 2022 9:00 PM Main Theater

August 10, 2022 2:00 PM SM Cinemas

August 11, 2022 3:30 PM Tanghalang Huseng Batute (THB)

August 12, 2022 6:15 PM Main Theater

August 13, 2022 6:10 PM Ayala Cinemas

August 14, 2022 4:30 PM SM Cinemas

August 16, 2022 3:50 PM Ayala Cinemas
CAST
Christela Marquez (Humming Vocals); Kim Timan (Woman's Hand, and Plant-Baby Vocals)
PRODUCTION
DIRECTOR/SCREENPLAY – Sam Villa-Real, Kim Timan; DIRECTOR OF PHOTOGRAPHY – Maria Mcgee, Porter Novak; PRODUCTION DESIGN – Kim Timan; EDITOR – Sam Villa-Real; ORIGINAL MUSIC SCORE – Marcus Santos, Joseph Salcedo; SOUND – Marcus Santos, Joseph Salcedo; ANIMATION DIRECTOR – Eru Petrasanta; EXECUTIVE PRODUCERS – Sam Villa-Real, Kim Timan; LINE PRODUCER – Keiziah Rubina
LOGLINE
A young woman's touch breathes life to a dollhouse where an all-too-familiar story replays.
SYNOPSIS
While revisiting her childhood home, a woman's dollhouse comes to life. Inhabiting the space are a pregnant mama doll, a curious little doll, and a terrifying papa doll. Little Doll is excited to meet her baby brother. But her excitement fades when Mama Doll loses her unborn child because of Papa Doll. Determined to see her younger brother, Little Doll plants the marble where it grows to become a plant-baby amalgamation. The Plant-Baby devours Papa Doll. Before it reaches Little Doll, she falls off the edge and is saved by the woman. The woman cleans the doll and packs her away, finally closing that chapter of her life.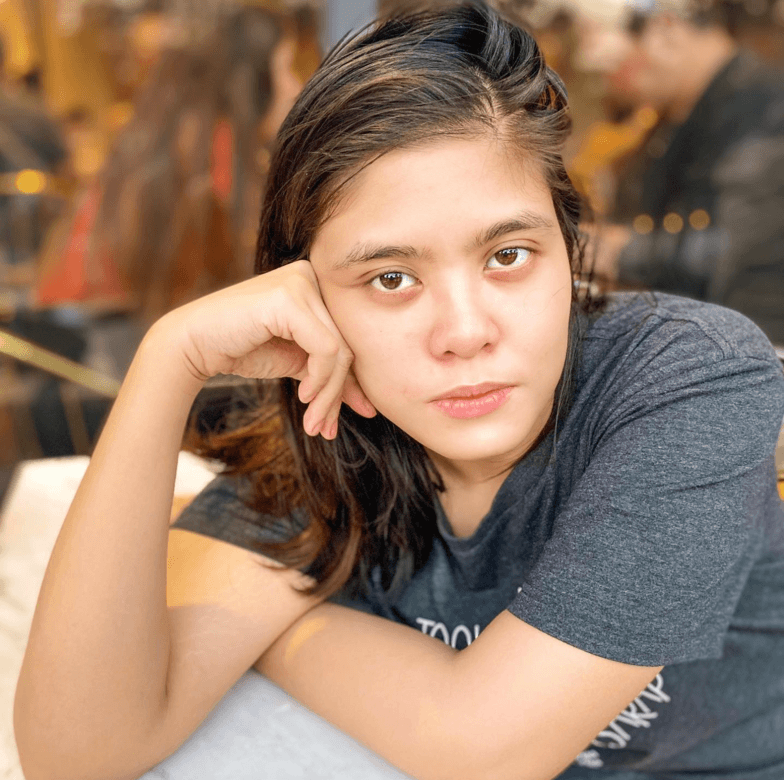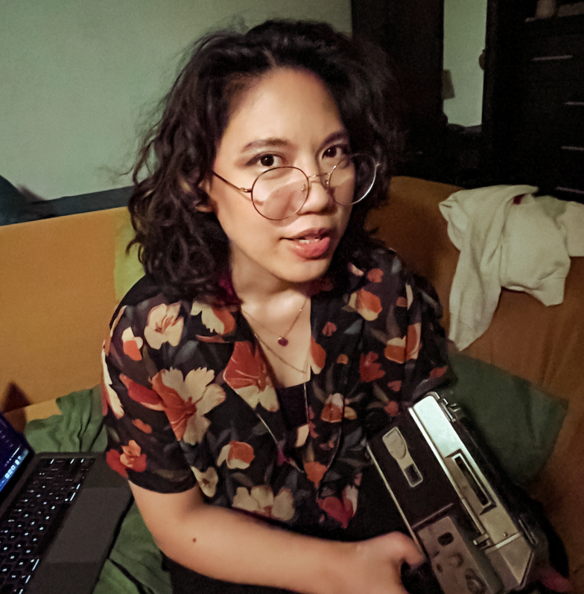 FILMMAKER'S PROFILE        
SAM VILLA-REAL is a film graduate from De La Salle-College of Saint Benilde. A creative spirit navigating the corporate landscape, she tries to find emancipation through the art of filmmaking. Sam is a video editor by trade but mostly by passion. She is constantly searching for the pulse of everyday life and the silence in the entropy of existence, while half-mindedly brewing a cup of coffee. Her most recent short Noontime Drama (2020), with Kim Timan, won the Best Film and Best Screenplay at the first CineMarya Women's Short Film Festival, at the 4th Pista Ng Pelikulang Pilipino in 2020.
KIM TIMAN is a producer by day and a director by passion. She is an alumna of the NAFF Fantastic Film School 2021 in Bucheon, South Korea, as well as a participant in the International Film Festival Rotterdam Producers' Lab 2023 in the Netherlands. Currently, she has directed 3 short films that have screened internationally and locally. Her third and latest short HM HM MHM (2022) paved the way to create the independent collective Baño Folks, which aims to produce more films leaning towards semi-experimental cinema. As a person with bipolar disorder, she is also an advocate of mental health. She aims to explore more stories about one's constant struggle with their own psyche and sense of self.
DIRECTOR'S NOTES
KIM TIMAN
When the COVID-19 pandemic struck the globe in March 2020, there were news online circling about the rise of domestic abuse globally because of the quarantine. And at the time, I was handling a somewhat related project for a Nonprofit Organization at work. Through this project, I learned a lot about gender-based violence, microaggressions that lead to it, and how it has affected the victims' school performance in the Philippines. It was a project that was close to home. As someone who grew up in an abusive and toxic household, I know how important it is to tell a story about a seemingly jolly child and their traumatic reality. It's a sad reality for so many children who don't feel safe in a place that they're supposed to call 'home'.
Through play time and colorful characters, we want to speak to the survivors of domestic abuse in a way that even children will understand. And hopefully, it resonates with them as much as it does with us.
SAM VILLA-REAL
Playtime is a child's expression. Though I did not grow up in a pandemic, being homeschooled all my grade school life, I'm very familiar with always being home and isolated. Playing with action figures and creating stories in a dollhouse-like fashion was my way to escape reality and to make sense of the things around me. I remember taking DC comics action figures and pretending they were me. It was my way of even escaping my own enforced gender expression, because I didn't want to wear dresses and look cute and pretty (with objections from my mother). I wanted to be like them.
In this film, I want to again explore that same feeling of isolation of being a young, closeted LGBT child navigating through self-discovery in a very Christian home. Though we have already tackled the idea of identity in our previous short "Noontime Drama", I want to digress further into my childhood and soothe the inner child that once wondered if she will ever truly be free. This film will not tackle the identity issue directly. But it will encapsulate the feeling of forced isolation of that moment in time. And with a group of primarily queer women in the crew, the filming in itself emancipates that inner child.
With this film, It will be like playing with my toys for one last time, sharing the story of my lonely younger self that she wasn't brave enough to tell.
FILM STILLS
BEHIND THE SCENES
Share This Story