ITI MAPUKPUKAW
by CARL JOSEPH E. PAPA
90:00 minutes | Animation, Drama, Queer | R-13 | Horror, Strong Language, Sex, Violence
FILM SCHEDULE
August 5, 2023 9:00 PM Philippine International Convention Center

August 5, 2023 5:30 PM Ayala Malls

August 6, 2023 12:45 PM Philippine International Convention Center

August 7, 2023 3:30 PM Ayala Malls

August 8, 2023 6:15 PM Philippine International Convention Center

August 9, 2023 6:15 PM Philippine International Convention Center

August 9, 2023 5:30 PM Ayala Malls

August 10, 2023 3:30 PM Philippine International Convention Center

August 10, 2023 3:30 PM Ayala Malls

August 11, 2023 12:45 PM Philippine International Convention Center

August 11, 2023 5:30 PM Ayala Malls

August 12, 2023 6:15 PM Philippine International Convention Center

August 13, 2023 12:30 PM Ayala Malls
CAST
Carlo Aquino, Gio Gahol, Dolly de Leon
PRODUCTION
DIRECTOR/SCREENPLAY – Carl Joseph Papa
EDITOR – Ben Tolentino
DIRECTOR OF PHOTOGRAPHY – Jehtro Jamon
MUSIC SCORER – Teresa Barrozo
SOUND DESIGN – Lamberto Casas, Jr
PRODUCTION DESIGNER – Eero Yves Francisco
EXECUTIVE PRODUCER – Geo Lomuntad, Dan Villegas, Antoinette Jadaone, Ianessa Valdellon
LINE PRODUCER – Ma. Sarah Perez
LOGLINE
The arrival of a familiar alien untangles a mouthless young man's memories.
SYNOPSIS
Eric lives a rather normal life working as an animator in the Philippines He has a nice but dirty apartment, a good paying job, and a guy he likes. One thing glaring about Eric though is he does not have a mouth, literally. One day, he receives a call from his mother Rosalinda, asking him to check up on his seemingly lost uncle. Only to find out that his uncle has been dead for days. While still in shock, a familiar alien arrives wanting to take Eric away from Earth. Iti Mapukpukaw is Filipino-Ilocano rotoscope animated film that follows Eric's life as it twists and turns after the arrival of the familiar alien, and the death of his uncle; both of which triggers Eric to remember his past and untangle his memories.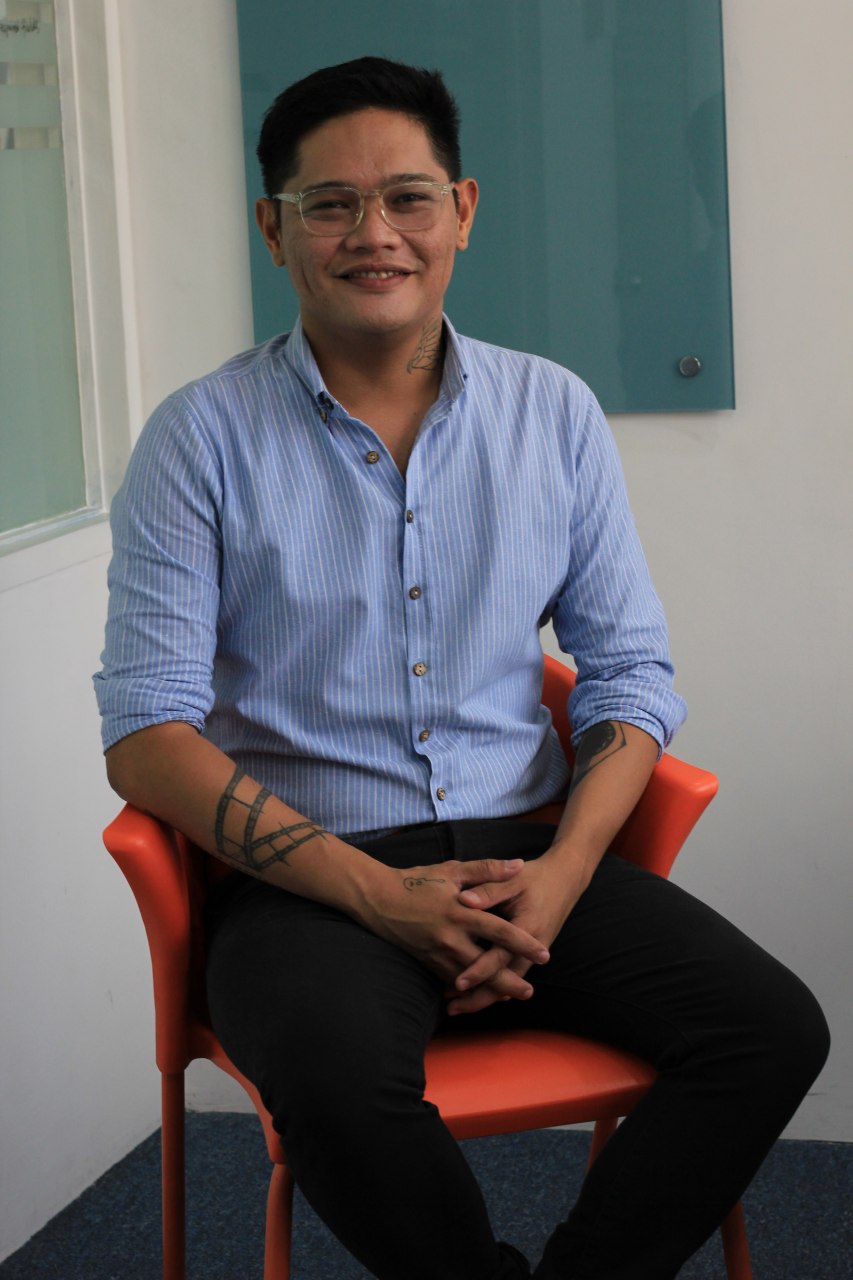 FILMMAKER'S PROFILE        
A software engineer, CARL JOSEPH E. PAPA has always been passionate about filmmaking. His debut feature film The Unforgetting won the NETPAC Jury Prize in the 2014 QCinema. His first full-length animated feature film Manang Biring competed and won top prize at the Cinema One Originals Film Festival, and became the first Filipino animated film to be showcased at the Annecy International Animation Film Festival 2016.
His second animated film Paglisan repeated the same feat in 2018. His film Love Bites bagged the top prizes in Animahenasyon 2018. Mang Jose, a film he wrote, was featured in BIFAN 2021. Iti Mapukpukaw is his third animated feature film to date.
DIRECTOR'S NOTES
When I create stories, I try to put myself in other people's shoes. Be it my mother (Manang Biring) or my grandmother (Paglisan), I try to make sense of how they would have felt to understand the choices they made. "Iti Mapukpukaw," is different. I am not putting myself in someone else's shoes; instead, I am wearing my own. Eric's story is one that's personal. It is made of dark and repressed memories.
Writing the story of Eric and reliving memories was a welcome coping mechanism. At first, I was fueled by anger because I thought there was nothing else I could do. What's done is done, after all. But it isn't over.
Speaking up is never too late. And with this, I hope to encourage others to speak up too.
It was always clear to me that this was going to be another animated film. It's still quite rare to see animated feature films in the Philippines, much so an animated film that deals with adult themes that are not usually seen tackled by animated films. With the films that I make, I continuously strive to make a statement that animation is not a genre but a visual form, and it can do stories that live- action films do.
From the true meaning of the word animation, which is to "bring life," I hope that in creating Eric, I create a refuge for people who suffered the same fate as he did. And for those who have not, I hope the film sheds more light on this topic. I hope that it creates a safe space where giving information, fostering understanding, and initiating discourse are things we don't have to be afraid of.
FILM STILLS
BEHIND THE SCENES
Share This Story