MGA HANDUM NGA NASULAT SA BARAS
Three boys become teachers to their parents during the pandemic.
Three young boys wake up to an announcement on a new educational system where parents must take an exam to determine whether they are fit to teach their children. Knowing that their parents are not as privileged and knowledgeable as they are, Makoy, Kaloy and Buknoy try their best to teach their parents what they need to know for their exam. The film depicts how parents become teachers to their children, and how children become teachers to their parents.
CAST
Karl Jarred Brillantes, Rioh Prince Tagana, MJ Medrano, Dyna Perez, Arlene De los Reyes, Nanette Cordova
PRODUCTION
DIRECTORS Arlie Sweet Sumagaysay, Richard Jeroui Salvadico
SCREENPLAY Arlie Sweet Sumagaysay
EDITOR Richard Jeroui Salvadico
DIRECTOR OF PHOTOGRAPHY Richard Jeroui Salvadico
MUSIC SCORER Brian Angelo Vargas
SOUND DESIGNER Richard Jeroui Salvadico
PRODUCTION DESIGNER Lynne Belle Salvadico
PRODUCER Arden Rod Condez
EXECUTIVE PRODUCER National Commission for Culture and the Arts (NCCA)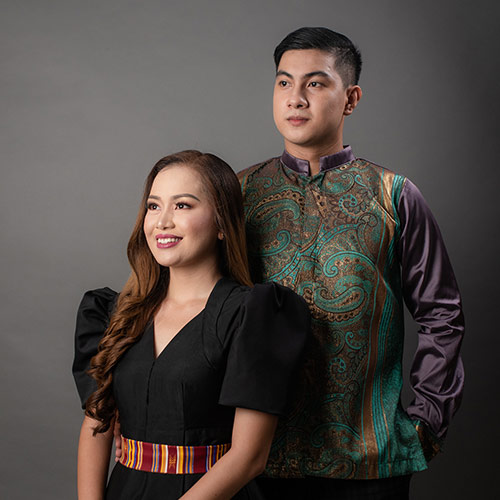 FILMMAKER'S PROFILE
Ilonggo filmmakers ARLIE SWEET SUMAGAYSAY and RICHARD JEROUI SALVADICO both graduated from the Central Philippine University with degrees in mass communications and digital media and interactive arts, respectively.
Their debut film Dribol won awards in Gawad Cinemaybank in 2018. Their filmography lists Katungdanan (2018), Chok (2019), and Gulut-anon nga Dulut (2019). Their film Utwas was a finalist in the 2020 Cinemalaya and won Best Picture in the Bamasa Film Festival in Cebu. Mga Handum nga Nasulat sa Baras was produced through a grant from NCCA's Eksena Cinema Quarantine 2 under John Denver Trending director Arden Rod Condez.
The filmmakers could be reached at arliesumagaysay00@gmail.com.
DIRECTOR'S NOTES
We have always heard our parents or grandparents say that we should study hard because we are lucky to have even stepped in school. But what if one day, we wake up with a news that will shock and change not only us, but everyone around us.
With the pandemic affecting not only the society and its norms but also the educational system, we bring you a comedy-drama narrative that focuses on the huge change that has happened in the educational system.
Now, students have to choose between those two options or types of classes. Obviously if the students are from a middle to a high class family, they would most likely choose online classes. But if the students are from a low-income earning family and can't afford an Internet connection, their option is limited to modular classes.
The catch is, the parents have to pass an exam in order for the school to allow the student to delve into modular classes. The exam determines if the parents are fit to teach their children. Crazy, right? Especially to those who have parents who don't even know how to write nor read.
FILM STILLS
BEHIND THE SCENES
Share This Story