RETIRADA
The Retiree
by Milo Alto Paz and Cynthia Cruz-Paz
93:00 minutes | Drama | PG | Strong Language and GAD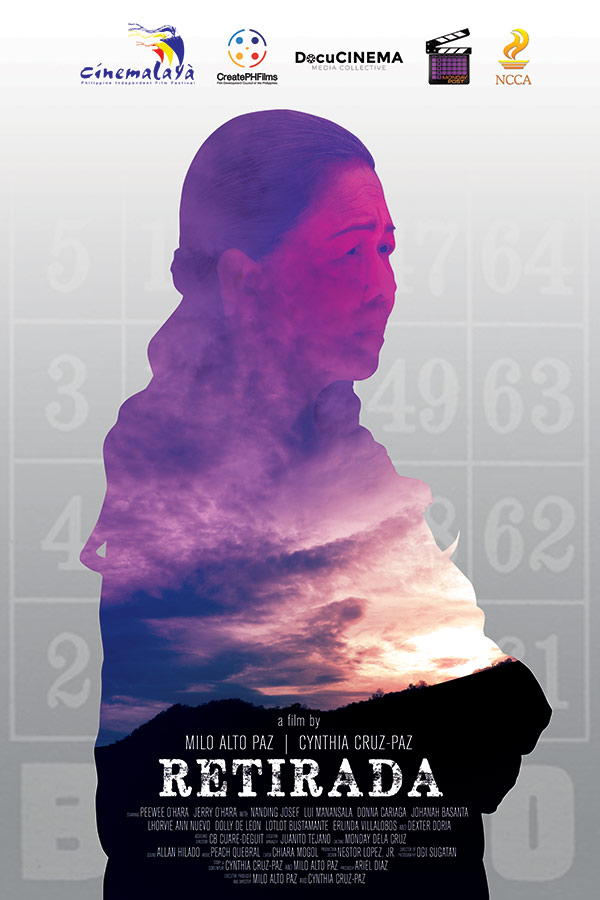 FILM SCHEDULE
August 7, 2022 3:30 PM Main Theater

August 9, 2022 9:00 PM Tanghalang Huseng Batute (THB)

August 11, 2022 3:50 PM Ayala Cinemas

August 11, 2022 6:15 PM Main Theater

August 12, 2022 4:30 PM SM Cinemas

August 13, 2022 6:15 PM Tanghalang Huseng Batute (THB)

August 13, 2022 8:30 PM Ayala Cinemas

August 15, 2022 11:30 AM SM Cinemas
Despite her husband Edong's assurance, Azon Marcelo experiences melancholia as she adjusts to her life as a retired government employee. Their neighbor Chayong introduces the game of Bingo to Azon. After hitting the jackpot, Azon becomes a regular Bingo player hoping to duplicate her initial windfall. But her new sense of purpose and the adrenaline rush from her new hobby would teach her what retirement really means.
CAST
Peewee O'Hara, Jerry O'Hara, Donna Cariaga, Dexter Doria, Nanding Josef, Lui Manansala, Johana Basanta
PRODUCTION
DIRECTORS Milo Alto Paz, Cynthia Cruz-Paz
SCREENPLAY Milo Alto Paz, Cynthia Cruz-Paz
EDITOR Chiarra Mogol
DIRECTOR OF PHOTOGRAPHY Ogi Sugatan
MUSIC SCORER Isha Abubakar
SOUND Allan Hilado, Aeneid John Pajo
PRODUCTION DESIGNER Bobet Lopez
PRODUCER Ariel Diaz
EXECUTIVE PRODUCERS Cynthia Cruz-Paz, Milo Alto Paz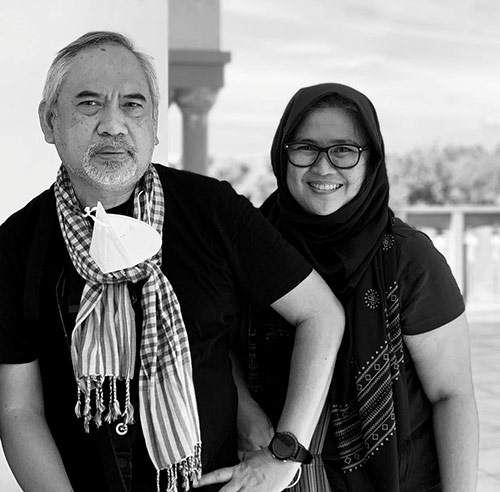 FILMMAKER'S PROFILE        
MILO ALTO PAZ worked as an Executive Producer and Director for GMA 7's Entertainment Group and News & Public Affairs. His documentaries and short features won in the Gawad CCP Para sa Alternatibong Pelikula at Video in their respective years. He directed and produced Star Cinema's first Digital film Taxi ni Pilo, Lugaw for Viva Films' omnibus film Imahenasyon, and co-directed Boses, a Cinemalaya finalist. The filmmaker can be reached at miloaltopaz@gmail.com.
CYNTHIA CRUZ-PAZ has written romance novels and is currently a brainstormer/writer in various TV series. Her screenplays were selected as semi-finalists in various film festivals. Her short film Boda de Oro won second prize at the 25th Gawad Alternatibo. She has been involved in some seminal independent film productions as producer and production manager. Together with her husband Milo, they produce video documentaries on important issues and advocacies such as child protection, environmental and cultural conservation, human rights, and values formation for NGOs, government agencies and private institutions.
She can be reached at cynchpaz@gmail.com.
DIRECTOR'S NOTES
"Ardently do today what must be done.
Who knows? Tomorrow, death comes."
– Buddha
Retirada explores life's meaning and purpose in the face of old age and death. The story idea came about as we witnessed how some of our close relatives struggled to live out their senior years after retiring from an active day to day work life. In a society where being young and active is given more merit, growing old can lead to a sense of alienation and even depression as one contemplates one's own mortality.
The main character of the film begins to question the reason behind her existence. Why are we here? Is growing old a blessing or a curse? How do you find meaning as we eventually grow old and weak?
The pandemic has led us to reflect on what is essential in one's life. What is my purpose? Where am I going? What is the meaning of life? The exploration of these eternal questions is the impetus for the concept of the film as humanity finds courage and hope amidst the current existential crisis.
FILM STILLS
BEHIND THE SCENES
Share This Story