Ara and Hiro visit Google Earth for the first time in search of escape, adventure, and fleeting happiness.
Amid the pandemic, friends Ara and Hiro visit Google Earth for the first time which takes them to different places such as Quezon, Banaue, and Disneyland, among others. While virtually visiting these places, the two friends talk about random topics, including Hiro's dream to become the president. Their fleeting happiness comes to a halt with the power interruptions. Coming back to their reality, Ara insists that Hiro become an electrical engineer instead of a president to solve the immediate problem in their town.
CAST
Shane Carrera, Jizrelle Carrera
PRODUCTION
DIRECTOR Claudia Fernando
SCREENPLAY Claudia Fernando
EDITOR James Gutierrez
DIRECTOR OF PHOTOGRAPHY Claudia Fernando
MUSIC SCORER Hans Piozon
SOUND DESIGNER Daryl Libongco
PRODUCTION DESIGNER Claudia Fernando
EXECUTIVE PRODUCERS Claudia Fernando, Montanosa Film Festival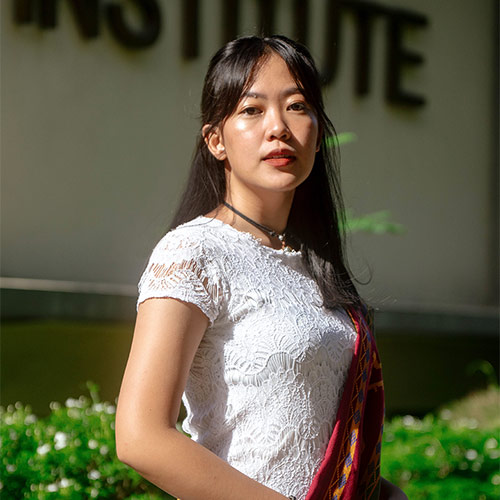 FILMMAKER'S PROFILE
CLAUDIA FERNANDO has produced short films focusing on women and children empowerment and the out-of-school youth sector. In her last year at the UP Film Institute, she joined the Digital Filmmaking Workshop in Malaysia. Her undergrad film Ang Alamat ng Sari-Saring Sari Store (The Legend of the Filipino Sundry Store) won Best Picture and Best Screenplay at the UPFI Black Beret in 2019. It was screened in various festivals including Cinema Rehiyon and the Nabunturan Film Festival in 2021. Her second film Roundtrip to Happiness won the Jury Prize for Emerging Cinema at the Montanosa Film Festival 2022.
The filmmaker could be reached at fernandoclaudiam@gmail.com.
DIRECTOR'S NOTES
It's more fun in the Philippines.
We'd often hear this tourism slogan yet throughout the pandemic, we've experienced quite the contrary.
Through the lenses of our child protagonists Ara and Hiro and within the confines of the online site, the director visualizes the many layers that hinder the Filipino nation from attaining happiness: (1) the irresponsible handling of the pandemic by the state; (2) the insufficiency and lack of infrastructure, may it be in the form of roads or electricity, that hinders children from attaining education; and (3) the imperial attacks within Filipino waters; the land disputes within Filipino land.
Much like in the film, we are entrapped within the limits dictated by the site—that is the screen. That despite the vast and wide territories we see, to navigate these is to realize our own entrapment within the limits dictated by the State.
And for a nation to be happy, it must first and foremost be free.
FILM STILLS
BEHIND THE SCENES
Share This Story