A delivery rider struggles to find his untraceable customer while racing against time in a life and death situation.
After asking for an additional delivery to pay for his mother's medical needs, delivery rider Oddie ends up looking for an oddly unlocatable customer named Trisha Lopez. Along the way, Oddie encounters several people related to her until he crosses paths with someone who will change his day-to-day life as a delivery rider.
CAST
Dennis John Lobo, Noeme Aquines, Lea Laresma, Andrea Juliene Cruz-Am, Jorich Abea, Ma. Janen Sara Deita, Lolita Cargando, Honey Rose Gonzales, Angeline Arciga
PRODUCTION
DIRECTOR Maria Kydylee Torato
SCREENPLAY Maria Kydylee Torato
ASSISTANT DIRECTOR Kaya Guillen
EDITORS Aron Lara, Maria Kydylee Torato
DIRECTORS OF PHOTOGRAPHY Aron Lara, Cire Mercado
CINEMATOGRAPHER Flory Ann Tacuban
MUSIC SCORER Miguel Basas
SOUND DESIGNER Miguel Basas
PRODUCTION DESIGNERS Jayrose Bunda, Nick Al Bunda
PRODUCTION MANAGER Ericka Paula Galvan
CLAPPER LOADER Angel Benjamin
EXECUTIVE PRODUCERS Robert Rodriguez, Arden Rod Condez
PRODUCER Mary Andrea Palmares
CO-PRODUCER Kristine Sumugat
CREATIVE AND PRODUCTION CONSULTANT Jose Ruel Garcia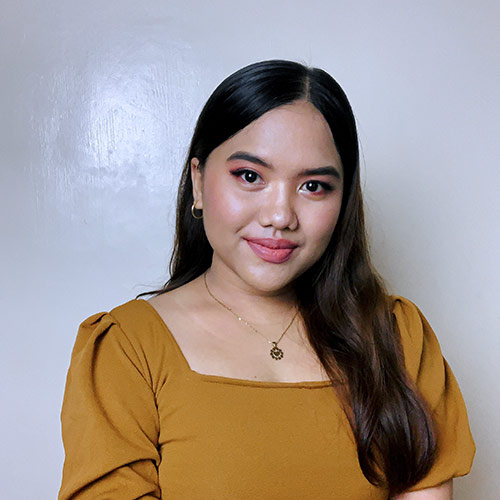 FILMMAKER'S PROFILE
Based in Roxas City, Capiz, MARIA KYDYLEE TORATO is a communications and media studies graduating student at the University of the Philippines Visayas. Specializing in film, she has edited several short films and documentaries with her classmates.
Her experience as a creative intern at a delivery company became her inspiration for her first short film Si Oddie.
She could be reached at makydtorato@gmail.com.
DIRECTOR'S NOTES
We are currently living in an 'add-to-cart' era where delivery riders play an important role in our lives. They put their lives on the line just to make sure that we receive our orders in the best possible condition. However, despite their hard work, delivery riders remain to be underappreciated by many.
In this film, we follow the journey of Oddie, the main character, as he carries the weight of his delivery and the responsibility of being the eldest son to a sick mother. With this project, I aspire to touch hearts and make people reflect about our lives during the pandemic. May the sincere narrative of this film speak to us consumers and remind us to be kind every time we encounter a delivery rider.
FILM STILLS
BEHIND THE SCENES
Share This Story